42nd OANA Executive Board Meeting
Printer-friendly version
Send to friend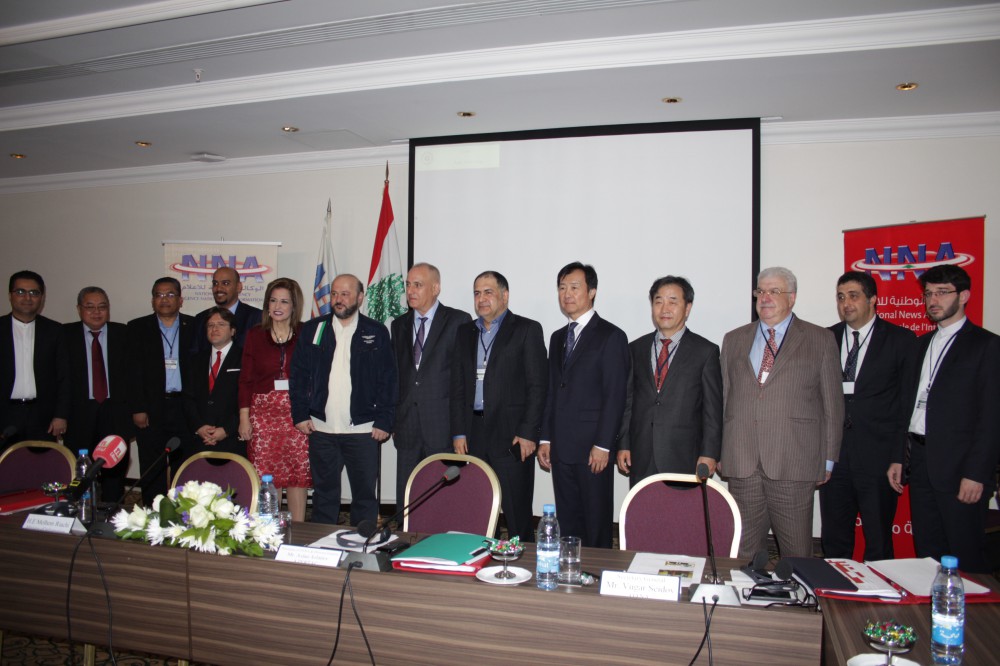 42nd OANA Executive Board Meeting.
May 3, 2017, Beirut, Lebanon
Participants:
AZERTAC (Azerbaijan), NNA (Lebanon), Anadolu (Turkey), Bernama (Malaysia), IRNA (Iran), BNA (Bahrain), Kyodo (Japan), Mehr (Iran), Montsame (Mongolia), TASS (Russia), Xinhua (China), Yonhap (South Korea).
Chairperson:
Secretary General of OANA, Mr. Vugar Seidov.
National Anthem of Lebanon played before the EBM meeting convened.
Welcome addresses made by:
1) Ms. Laure Sleiman, Director of NNA.
On behalf of the host agency, Ms. Laure Sleiman, welcomed the participants of the 42nd OANA Executive Board meeting. She underlined the significance of such meetings as a platform for the discussion of vital issues of contemporary journalism and working out common strategies of news agencies.
2) Mr. Aslan Aslanov, President of OANA.
President of OANA, Director General of AZERTAC, Mr. Aslan Aslanov, addressed the participants, thanked NNA for hosting the meeting as well as the Information Ministry for its support, reaffirmed his appreciation of active participation of all the Board members in the 5th World Congress of News Agencies and the 16th General Assembly of OANA in Baku in November, 2016. He informed the Board members about updates in OANA's website, proposed to review the Statue and think about relevant amendments aimed to intensify OANA's activity, such as, inter alia, electing chairing agencies within Technical and Ethics subcommittees, etc.
3) Mr. Melhem Riachy, the Minister of Information
The Minister of Information, Mr. Melhem Riachy, welcomed the Board members, stressed the importance of news agencies in producing and delivering to the society the most accurate and unbiased news, called the news agencies to put their utmost to support the governments' efforts in promotion of intercultural dialogue and combating terrorism and all forms of violence.
The Board approved the minutes of the 41st EBM, which was held in Baku on November 18, 2016.
The Board reviewed the application of Russia's "Vestnik Kavkaza" agency to become a member of OANA, affirmed that, according to the Statute, new members can join the organization at the General Assembly held once in three years, promptly reached a consensus about the need to work out strict criteria for joining the organization in order to avoid the situation when any agency can become the member of OANA at its first request. Some Board members suggested to limit the number of non-government affiliated agencies to one per country, giving preference to the most active ones with correspondent bureaus abroad. Proposals were made to introduce the "non-voting observer's" status within the OANA membership as the first step towards full membership as well as probation period for the candidates during which their activity would be closely monitored and evaluated by the Board. The Board agreed to collect all the proposals by the next meeting and draft a joint proposal to the General Assembly about the matter with possible relevant amendments to the Statue regarding criteria for membership.
The Board considered the written request by "Russia Today" to change its official name in OANA's website to "Sputnik". TASS First Deputy Director General, Mikhail Gusman, informed the Board that the official name of the agency remains "Russia Today", while "Sputnik" is just a brand name for the external audience. The Board asked the Secretary General to respond to the agency's letter and emphasize that only official names can appear in the website, not the brand names. As a compromise, both names can be mentioned.
Secretary General read the financial report, informed the Board about the accumulated funds and about the agencies that have not paid the membership fees. The Board instructed the Secretary General to draft a letter to those agencies and urge them to honor their membership duties as a sign of respect to the members that pay the fees in due time. Director of NNA suggested that such reminders should be sent annually. In the meantime, it was decided to draft the proposal to the General Assembly about the possible amendments to the Statute regarding the termination of the non-paying agencies' membership in OANA.
The Board endorsed the NNA director's proposal to introduce financial awards for the winners of various competitions as well as to conduct trainings and exchange programs from OANA's funds.
Secretary General read the technical report, informed about the modifications in the website.
The EBM participants read the country reports on the specified topics. The decision was made to prepare a PDF file with all the reports and upload it to OANA's website making it publicly accessible.
Yonhap presented PyeongChang News Service Network to the Board members, received endorsement and appreciation. President of OANA, Mr. Aslanov, suggested to hold such presentations by external experts in the future EBMs as well.
The Secretary General noted that the next EBM's date and place will be announced shortly.
Speech of National News Agency (NNA) Director, Laure Suleiman, at the opening session of OANA's 42nd Executive Council meeting in Beirut
Your Excellency Minister of Information Mr. Melhem Riachy,
President of OANA Mr. Aslan Aslanov,
My fellow agency directors, members of OANA Executive Council and OANA Technical Office,
It is a great honor for us to welcome you here in Lebanon -- this country that is small in size and great in diversity and openness.
Lebanon, which welcomes you today on its territory, is only 10452 square kilometers. Its sons live in 18 different communities. It hosts more than 2 million displaced Syrians and Iraqis, who have fled violence and terrorism in their respective countries, in addition to the huge number of Palestinian refugees.
Today, you have come to Beirut from various countries in Asia and the Pacific to discuss and exchange ideas about the future of news agencies in light of the world's technological development, and to discuss their role in blocking the promotion of terrorism, which is destroying our civilizations, cultures, and diversity.
Lebanon, which has recovered from a 30-year-old war, is pleased to host the meeting of the Executive Council of OANA at the onset of a new presidential era. Our new president is relentlessly seeking change and reform, as well as restoration of prestige to national institutions. This conference is also under the patronage of Information Minister, Melhem Riachy, who is relentlessly trying to transform the Ministry of Information to a Ministry of Dialogue and Communication.
Our meeting today coincides with UNESCO's World Press Freedom Day, which translates our deep conviction in the freedom of expression.
We have chosen four themes to be the focus of our meeting:
1- News media in the era of digital development
2- News Agencies' performance at a time when mobile phones have become accessible to everyone
3- New standards of journalism: the transformation of journalism in line with modern media
4- Role of news agencies in blocking terrorism
Finally yet importantly, allow me to thank His Excellency, Minister of Information Mr. Melhem Riachy, for sponsoring this meeting. I would also like to welcome you once again in your second country, Lebanon.
Welcome speech

42nd OANA Executive Board Meeting
Beirut, Lebanon
3 May, 2017


Aslan Aslanov
Director General, AZERTAC
President, OANA

Dear Mr Minister, distinguished participants of the meeting, dear friends,
First of all, on my own behalf and on behalf of the members of the Executive Board, I would like to thank the Lebanese government and Minister of Information Mr Melhem Riachy for assistance in organizing this meeting and for participating in today`s gathering.
I would also like to express my gratitude to Director of Lebanese National News Agency (NNA) Ms Laure Sleiman for hosting the meetings of OANA Executive Board, and the Ethics and Technical committees.
As you know, Baku hosted the 5th News Agencies World Congress and the 16th General Assembly of the Organization of Asia-Pacific News Agencies (OANA) last November, co-organized by the Heydar Aliyev Foundation and AZERTAC and supported by first Vice-President Mehriban Aliyeva. Each of you contributed to the organization of those events. I would like to thank you for your support and help.
I think the fact that Azerbaijani President Ilham Aliyev attended and addressed the joint opening ceremony of the General Assembly and the 5th Congress and received a group of media representatives increased the importance of our events.
Thirty-five out of 44 OANA members attended the Baku-hosted General Assembly of OANA. We heard an extensive report on the activities of the organization over the past three years, which was delivered by First Deputy Director General of Russia's TASS news agency Mr Mikhail Gusman. We also voted to elect new members of the technical and ethics committees.
We realize great responsibility as AZERTAC took over OANA presidency and believe that we will successfully cope with this task in the next three years. We are confident that through combined efforts we will achieve a lot in improving OANA's activity and making it a more dynamic organization.
We have sent letters to all OANA members inviting them to put forward proposals on how we can improve the structure and work of OANA and increase functionality of its website. We have received feedback from a number of members, including Russia's TASS, Australia's AAP, South Korea's Yonhap, Vietnam's VNA, China's Xinhua, Iran's IRNA agencies. And I would like to take this opportunity to thank each of you personally for your valuable proposals. These proposals are being considered and will be implemented during our presidency.
I would like to draw your attention to some of the proposals. We would appreciate any comments on these proposals during our discussion today. Australia's AAP agency proposes holding workshops and trainings for OANA member agencies on a regular basis. I believe that this will make a significant contribution to the development of cooperation among news agencies. The workshops and trainings will allow our agencies to have an exchange of experience and ideas, and employees will have the opportunity to benefit from knowledge and skills of their colleagues at other agencies. AAP also proposed organizing forums as part of Executive Board meetings. I think this is also a very effective proposal. AAP's other proposals are related to the issues, which will be discussed at today's meeting. AAP proposes that we discuss today the improvement and functionality of OANA`s website, and review the work of the Executive Board. I would appreciate your comments on these issues.
We also have Iran's IRNA agency, which proposes discussing the opportunity for member agencies to share with each other their professional and technical achievements as well as successful experience. IRNA also made a proposal similar to AAP's proposal, which is holding joint workshops among member agencies. IRNA put forward one more proposal that we discuss today how OANA can benefit from social networks.
Another proposal came from Russian TASS agency, which believes that it would be beneficial for us to invite guest speakers from research centers or non-member agencies to the meetings of the Executive Board.
We took over OANA's website from TASS, and have been working to make it more efficient. A technical report, which is presented to you, features detailed information about what we have done. I would like to give a brief insight into some of improvements made on the website. One of them is that we changed the video player. By doing so we ensured access to video content on the OANA website from mobile phones and tablets.
We created a Twitter account of OANA. Given the growing role of social networks, I think it is important to our future development. It is a well-known fact that nowadays everyone, particularly young people, have access to internet resources through mobile devices. Therefore, we adapted OANA`s website to mobile devices in order to improve access to the website and increase its functionality.
Apart from this, we added several new functions to the website. One of them is that we launched a service that allows a chair agency to collect the statistical data of the website. We also added "Send to a friend" function, which enables sending a selected news story to anyone through e-mail.
As you know, last December marked the 55th anniversary of the establishment of OANA. We created a special section on the website to highlight memorable occasions in the life of the organization.
I would also like to take this opportunity to invite member agencies to post as many as possible news stories on OANA`s website in order to improve its functionality. We have done certain work in this area since we took over management of the website. Twenty-seven member agencies are currently posting their news on the website of OANA. But we will do our utmost to maximize this number. I also urge the agencies attending our meeting to be much more active in this regard.
As you know, we have Technical and Ethics committees as sub-committees of OANA Executive Board. AZERTAC, Australian AAP, UAE's WAM and Japanese Kyodo are current members of the Ethics Committee, while the Technical Committee features AZERTAC, Russia's TASS, Iran's MNA, Mongolia's Montsame, Indonesia's Antara, Kazakhstan's Kazinform, and Kuwaiti KUNA. But the OANA Charter does not feature any clause on these sub-committees. We believe that certain amendments should be made to the Charter and a relevant close should be added in order to ensure effective activity of the committees. We can also elect chairmen of the committees from among their members. We would appreciate your proposals on this issue at our today's meeting. (AZERTAC may recommend Australian AAP as chair of the Ethics Committee, and Russian TASS as chair of the Technical Committee).
Once again I would like to thank you for participating in this meeting, and personally Ms Laure Sleiman for organizing the event, and invite each of you to be active in today`s discussion.
Speech of Minister of Information Mr. Melhem Riachy
"First and foremost, allow me to welcome you all and to welcome this conference in hopes that it may have a good outcome for you and all the news agencies across the world.
I would like to thank you for the interesting axes that you've tailored for this conference, especially in line with the modern digital media and its development, and the challenge to keep pace with this progress whilst simultaneously protecting the media ethics and objectivity.
These basic points should be the focus of modern media work especially that the evolution of mobile phone media applications has rendered every citizen a journalist; but unfortunately, this has somehow led to the citizens' loss of their sense of humanity. For instance, people nowadays favor video recording an incident over helping those involved.
We are countering a crisis, but in the face of today's burgeoning technology and civilizations, in the face of this reality, this conference is required to discuss all the substantial points to swiftly thrash out looming hindrances.
Time is running out and the huge technological and digital developments never cease to surprise us by the day. News agencies are required to develop standards to enhance the logic of communication and dialogue, as well as a culture of communication and dialogue between the peoples of the world and the people of one nation. Perhaps news agencies should consider developing investigative journalism and the pursuit of news beyond the obvious. I think we are required to work on this issue to strengthen investigative journalism, which in turn would protect the public opinion and our peoples from corruption and terrorism.
In this context, I would like to highlight a new point concerning the subject of media coverage of news agencies, especially the National News Agency; the work of news agencies should not be solely limited to covering the activities of politicians and officials, but should be more conducive to the citizen's affairs and social and economic concerns. Agencies should also promote the concept of cultural activities and the concept of inter-peoples mobility to make them communicate.
I would like to underline the importance of protecting freedom of expression through these agencies and not to fear political power in any way. It is the news agencies' duty to spread the truth; it is the truth that saves us, and it should be at the heart of any media action.
The situation in Lebanon has shifted from that of confusion and instability to a more stable one, especially after the election a new President, and the inter-Christian reunion, which paved the way for inter-Lebanese reconciliation. We are endeavoring to come out with a new elections law to later hold legislative elections and elect a new parliament."