BACA opens 'Features of Bahrain Civilisation' exhibition in Souq Al Baraha
Printer-friendly version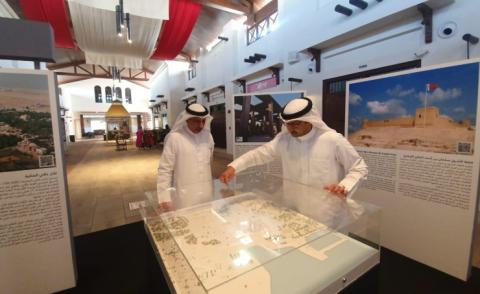 Manama, Mar. 27 (BNA): The Bahrain Authority for Culture and Antiquities (BACA) has inaugurated the "Features of Bahrain Civilisation" exhibition at its new venue in Souq Al Baraha, Muharraq.
Director of Antiquities and Museums at BACA, and Souq Al Baraha Director-General, Ibrahim Al-Qaldari, were present.
The exhibition will remain there until May 2023, providing its visitors with a set of photos and detailed texts about a number of the Kingdom's historical and heritage sites.
Among the most important sites offered by the exhibition to the public are those registered on the UNESCO World Heritage List, namely the Qal'at al-Bahrain – Ancient Harbour and Capital of Dilmun, the Pearling, Testimony of an Island Economy and the Dilmun Burial Mounds.
The exhibition is designed in an interactive way, as there is a Quick Response (QR) code next to each site image, which enables the visitors to use their smartphone to watch introductory videos.
BACA affirmed that the exhibition is part of its efforts to introduce the Bahraini heritage and civilisation to the citizens, residents and visitors, by transferring cultural activity to public places and spaces around the Kingdom, noting that the exhibition provides adequate information about the historical sites smoothly, but in-depth at the same time.
It is to be noted that Seef Mall had hosted the first opening of the "Features of Bahrain Civilisation" exhibition, in cooperation with the Gulf University, as part of the 17th Spring of Culture Festival.