Bahrain participates in WPL 2023
Printer-friendly version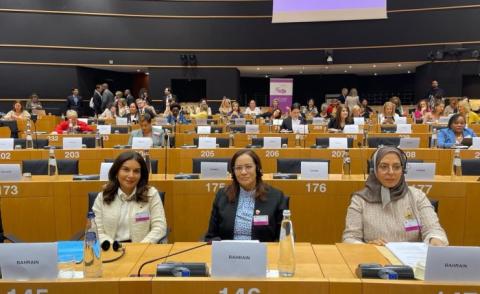 Brussels, June 7 (BNA): A delegation from the Shura Council participated in the opening session of the Women Political Leaders Summit 2023 (WPL), organized by the European Parliament and the Belgian Federal Parliament in Belgium on June 7-8, under the theme (Representation Matters).
The summit focuses on the political and parliamentary contributions of women to peace, security and development; empowerment, gender balance and the challenges they face in the field of practicing political and parliamentary work.
The summit is attended by women parliamentarians, politicians, specialists and experts from different countries of the world.
The Bahraini delegation includes Dr. Fatima Abduljabbar Al Kooheji, Chairperson of the Woman and Child Committee in the Shura Council, Dr. Ibtisam Mohammed Saleh Al Dallal, Shura Council Member and WLP ambassador and Leena Habib Qassim Shura Council Member.