DXB sets new record with 8.37 million passengers in August
Printer-friendly version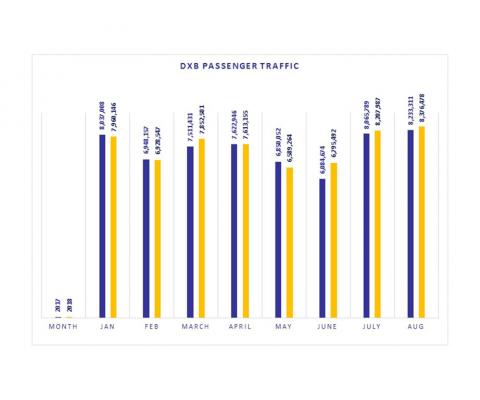 DUBAI, 3rd October, 2018 (WAM) -- Dubai has recorded 8.37 million passengers passing through Dubai International Airport, DXB, in August, setting a new global standard and surpassing the airport's former record of 8.23 million set in August 2017.
August marks the second consecutive month that DXB has crossed the eight million customer mark, setting Dubai Airports up for a strong third quarter. DXB's average monthly traffic this year is 7.5 million. That's 1.2 million more than its closest rival London Heathrow (6.29 million).
Commenting on the achievement, Dubai Airports' CEO Paul Griffiths, said, "It's another milestone for Dubai Airports as we continue to break records and set the bar even higher. While the numbers speak volumes about our growth, our aim is to continue pushing the boundaries on experience and provide customers with the best possible service. We are making progress on that front as well with shorter queue times, world-leading F&B and retail and other touches like spas, swimming pools and trampolines that help us stand out from the crowd."
India remained DXB's top destination country by customer volumes, with total traffic reaching 1,012,124 during the month. Saudi Arabia was second with 613,618 customers, followed by the UK with 603,531. Other markets of note include US with 306,701 passengers, and China with 215,211.