Cuban media spotlights Vietnamese NA Chairman's activities in Cuba
Printer-friendly version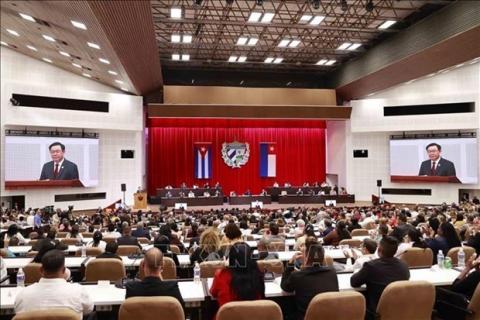 Hanoi, April 21 (VNA) - The Cuban media has run articles highlighting the ongoing official visit to Cuba by Chairman of the Vietnamese National Assembly Vuong Dinh Hue and his activities in Havana.
The Granma daily, the newspaper of the Communist Party of Cuba, highlighted the top Vietnamese legislator's speech at a special plenary session of the 10th National Assembly of People's Power of Cuba and a ceremony celebrating the 62nd anniversary of the Giron Victory in Havana on April 19 afternoon (local time).
According to the newspaper, President of the National Assembly of People's Power of Cuba Esteban Lazo Hernandez expressed his honour when NA Chairman Hue attended and delivered the speech at this session.
Hue's visit shows that Cuba is not alone and has never been alone, it said, noting that Cuba received solidarity and support from all over the world, including Vietnam.
On the same day, Cubadebate - an online newspaper with the largest traffic in Cuba, quoted NA Chairman Hue as highlighting the fraternal solidarity between the two countries, affirming that both nations attach great importance to their special, loyal and pure friendship that is rare in international relations.
Meanwhile, Juventud Rebelde newspaper emphasised the time-tested fraternal relations between the two countries on the basis of mutual respect and assistance, saying that Vietnam and Cuba have worked closely to promote socio-economic cooperation plans.
Chairman Hue's nearly-30-minute speech at the special meeting received applause from participants.
Talking to the Vietnam News Agency's resident correspondent in Cuba after the session, delegates said the speech of the top Vietnamese legislator was excellent and emotional, a testament to the fraternal solidarity and friendship between the two nations.
Angel Arzuaga Reyes, deputy head of the Communist Party of Cuba Central Committee's Department for External Relations said Chairman Hue's visit took place in a special context when Cuba is imposed embargo, adding that with the visit, Vietnam once again "reached out its hand to Cuba".
He expressed his gratitude for the Vietnamese people's support to Cuba, affirming that the Vietnam - Cuba relationship has been and will be a model of the world.
For her part, Bolivia Tamara, a member of the Communist Party of Cuba Central Committee and a NA deputy, said Chairman Hue's visit and many agreements signed on this occasion are a great source of encouragement and hope for the Cuban people in the current difficult context.
Another NA deputy, Raul Torres, expressed his happiness when welcoming the top Vietnamese legislator, saying that Chairman Hue's visit contributes to deepening the Vietnam-Cuba brotherhood./.