G20 chance to realize climate action: Indonesian minister
Printer-friendly version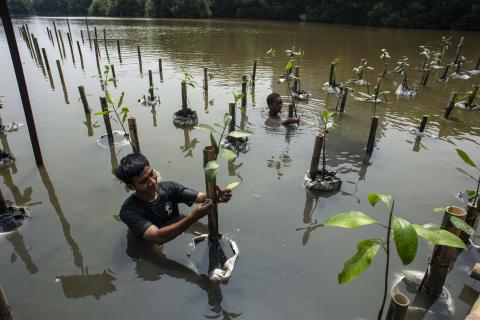 Jakarta, March 23 (ANTARA) - The G20 meeting is an opportunity to realize braver collective action to handle climate change, biodiversity loss, and overpopulation, Environment and Forestry Minister Siti Nurbaya has said.
In a statement issued on Tuesday, the minister said that the adoption of the Glasgow climate pact and other decisions taken during the 26th Conference of the Parties (COP) meeting underlined the importance of bolstering collective emission reduction efforts.
The efforts involve expediting and implementing domestic mitigation steps, she noted at the opening of the G20 Environment Deputies Meeting and Climate Sustainability Working Group (EDM-CSWG) in Yogyakarta on Tuesday.
In addition, they include protecting, conserving, and recovering nature as well as the ecosystem for climate adaptation and mitigation, as well as ensuring social and environmental protection.
Indonesia aims to gather pressing topics concerning the global process and development to push real action during its G20 Presidency, Nurbaya said.
This will be done by considering the inheritance and work from the previous G20 EDM-CSWG.
Concerning Indonesia's climate change and climate target in the Nationally Determined Contributions (NDC), she explained that Indonesia has initiated the net sink in forestry and other land use (FoLU) sector in 2030.
Indonesia's 2030 FoLU Net Sink comprises strategies and approaches to reach a FoLU sector greenhouse gas emission absorption rate that matches or even exceeds the emission rate in Indonesia.
Meanwhile, the FoLU sector after 2030 is targeted to absorb more emissions.
When combined with other greenhouse gas emission reduction activities from other sectors, it could help the nation reach carbon neutral status by 2060 or earlier.
In reaching the medium and long-term target for emissions reduction, the nation's unique ecosystem, which includes peatland and mangrove ecosystems, is playing an important role, Nurbaya explained.
Almost 90 percent of the world's peatland ecosystems and 41 percent of global mangrove land, as well as unique ecosystems, exist in G20 countries, she noted.
This places the G20 in a strategic position to control climate change through the protection and rehabilitation of peatlands and mangroves.
The first EDM-CSWG is the first G20 milestone through collective effort to protect the environment and deal with climate change to ensure a more sustainable and climate-resilient future, the minister said.
"Let us recover together, recover stronger," she remarked.