Shortlink :
https://www.oananews.org//node/633263
The shortlink copeid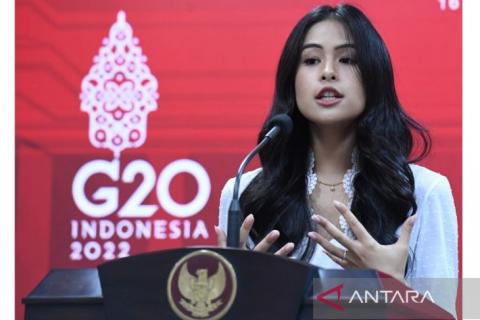 Indonesia committed to involving youngsters in preserving Earth
Jakarta, June 17 (ANTARA) - The Indonesian G20 Presidency, through the Youth 20 (Y20) forum, has affirmed its commitment to involving the young generation in efforts to preserve the Earth. "Youngsters are the ones who will inherit the Earth in the future," G20 spokesperson team member Maudy Ayunda said in a press statement released on Thursday. "It is important to involve them in the effort to preserve the Earth, reflected in one of the priority issues of the 2022 Indonesian G20 Summit," she added. G20 is an international forum comprising 19 countries who work together to handle major issues. Indonesia is holding the presidency of the grouping this year. According to its official website, Y20 is a forum for future young leaders from G20 member countries for discussing, arguing, and exchanging ideas regarding the agenda of the G20 Presidency. The forum also aims to make Earth a more livable and sustainable planet in the future. Indonesian youth should actively contribute to the effort to preserve the Earth for the next generation in a better condition, Ayunda noted. According to a population survey conducted in 2020, at least 144.87 million people were born in the period from 1987 to 2021. The youth account for 53.81 percent of the total population of Indonesia. "Their number is not small. Hence, it is important for them to play a role," she remarked. Youngsters can participate in the effort to reduce destruction by stemming greenhouse gas emissions, reducing overconsumption and exploitation of resources, reducing waste by recycling, planting trees on a large scale, and reporting deforestation. They can also play a role by supporting the clean energy transition, urging the private sector to adopt a sustainable supply chain, and creating relevant technological innovations. These actions can potentially protect the biological diversity that has existed in their surrounding environment over a fairly long period of time. Stakeholders in Indonesia, through the Y20 forum, are encouraging all youngsters to actively participate so that the environment can be preserved in a relatively shorter period of time. Indonesia plans to develop 30 nursery centers within a span of three years as a real action to preserve the environment. In addition, Indonesia is also seeking to rehabilitate 600 thousand mangrove areas by 2024 and achieve carbon neutrality by 2060.