Shortlink :
https://www.oananews.org//node/632357
The shortlink copeid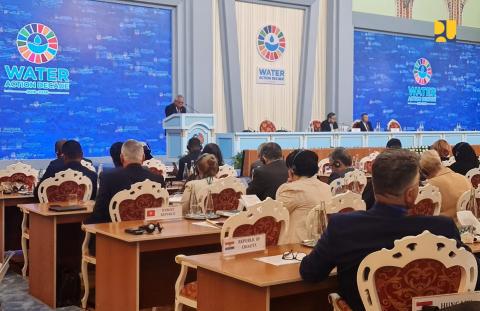 Indonesia proposes four sustainable resilience measures
Jakarta, June 8 (ANTARA) - Indonesia has proposed four measures for building sustainable resilience in the face of disasters, including pandemics, that could disrupt the attainment of the sustainable development goals (SDGs). "The first concept is the importance of strengthening awareness of disaster response in an anticipative, responsive, and adaptive way to minimize disaster risks," Public Works and Public Housing Minister Basuki Hadimuljono said at the High-Level International Conference on Decade for Action "Water for Sustainable Development" in Dushanbe, Tajikistan, on Tuesday. The second measure is a call for each country to invest in science, technology, and innovation within the framework of disaster mitigation and handling, he said in a written statement. "As launched by UNESCO, state leaders must be aware of the importance of data and knowledge to support and improve water resource management as water is key to mitigating disaster risks," he added. "The third concept is building disaster- and climate-resistant infrastructures such as dams, wave breakers, reservoirs, dikes, and green infrastructures," he said. The fourth measure is joint commitment among various stakeholders at the local, national, and international levels to implement global agreements, he said. "By applying the four concepts, we hope we can achieve the sustainable development goals (SDGs), particularly the sixth goal on water and sanitation by ensuring the availability of water and resistance to water-related disasters," he added. He further said that the integration of disaster risk reduction with infrastructure development planning can serve as an effective investment for preventing losses in the future. "Disaster risk reduction investment can reduce infrastructure rehabilitation and reconstruction costs by at least four times. Hence, disaster control efforts covering all preventive aspects, mitigation, emergency response, rescue, rehabilitation, and reconstruction need to become a framework for important national policy," he said. Hadimuljono also invited all delegates to attend the World Water Forum (WWF) scheduled in Bali in 2024.