The FM Discusses In Brussels With An Official Of The EU The Importance Of The Partnership And Cooperation Agreement
Printer-friendly version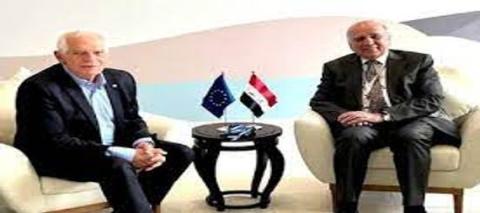 Baghdad / NINA / - Deputy Prime Minister, Minister of Foreign Affairs, Fuad Hussein, discussed today, Monday, with the Vice President of the European Commission, High Representative for Foreign Affairs and Security Policy in the European Union, Josep Borrell, in Brussels, the importance of the partnership and cooperation agreement that frames the relationship with the European Union.
A statement of the Ministry of Foreign Affairs stated: During the meeting, they discussed issues of common interest between the Republic of Iraq and the European Union, ways to strengthen relations between the two sides, and the current regional and international situations of concern to both sides.
The statement added: They discussed the work of the three committees emanating from the Partnership and Cooperation Agreement and the work mechanisms in the next stage that would put the distinguished relationship between the Republic of Iraq and the European Union on the ground.
For his part, Borrell explained: The European Union's commitment to the terms of the agreement and the frameworks for activating it, pointing to: Iraq's geopolitical importance to the European Union, and the effective role of Iraqi diplomacy in the region./ End