ERC delivers food supplements to children in Mocha hospital, Yemen
Printer-friendly version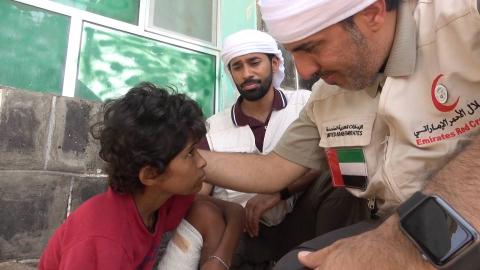 HODEIDAH, 16th October 2018 (WAM) -- The Emirates Red Crescent, ERC, has delivered a shipment of food supplements for children at the Mocha general hospital on Yemen's Red Sea Coast, as part of a comprehensive nutrition programme launched by the authority to alleviate the suffering of Yemenis.
The food supplements were delivered in the presence of Saeed Al Kaabi, Director of the UAE Humanitarian Operations in Yemen, Mohammed Al Qamzi, ERC Representative in the Red Sea Coast in Yemen, Dr. Amin Al Shazli, Director-General of Mocha hospital, and a number of doctors.
During their hospital tour, the ERC delegation explored its medical requirements as well as the urgent needs of patients to fulfil them immediately to help them face their dire humanitarian conditions imposed by the Iranian-backed Houthi militias.
The delegation also requested that some of key facilities in the hospital be maintained to ensure continuity of healthcare services to Yemeni citizens.
Al Kaabi said that the provision of food supplements is part of the UAE humanitarian efforts in Yemen in all sectors, especially the health sector.
Dr. Al Shazli stressed that the generous Emirati support to the health sector on the Red Sea Coast in Yemen had ensured suitable medical treatment to Yemeni families in Mocha and neighbouring areas, and expressed his thanks and appreciation to the ERC for its humanitarian activities in all fields.