Indonesia may reimplement PPKM if COVID surge occurs
Printer-friendly version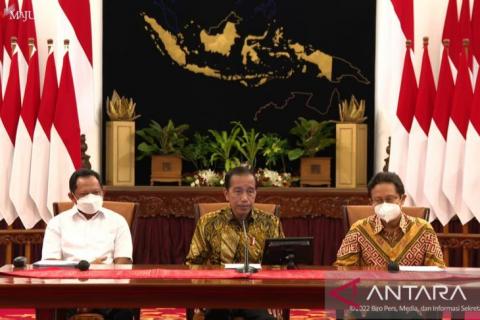 Jakarta, Dec 31 (Antara) - The Indonesian Home Affairs Minister, Tito Karnavian, has said that public activity restrictions (PPKM) may be implemented again if a surge in COVID-19 cases is witnessed in Indonesia.
As soon as President Joko Widodo officially lifted the PPKM policy on Friday, Karnavian issued instructions outlining further provisions.
"With this instruction, we convey that PPKM can be implemented again if a very significant increase in cases occurs. If a surge occurs, PPKM can be implemented again," he said at the Merdeka Palace here on Friday (Dec 30).
The minister explained that based on the Home Affairs Minister's Instruction Number 51 of 2022, PPKM was going to be implemented until January 9, 2023.
However, with the new policy issued by President Joko Widodo, PPKM has been officially ended in all regions in the country starting Friday.
Karnavian highlighted that though the PKKM policy has been lifted, it does not mean that the pandemic has ended. The community is being advised to continue wearing masks as a new normal behavior.
"PPKM is a form of government intervention to limit community activities to prevent transmission," he explained.
President Joko Widodo on Friday announced an end to the PPKM policy, which was enforced to control COVID-19 transmission in Indonesia.
The revocation of the PPKM policy means that there will be no more restrictions on public activities and mobility, he said.
The President noted that as of November 27, 2022, Indonesia recorded only 1.7 COVID-19 cases per 1 million population, with the weekly positivity rate pegged at just 3.35 percent.
Indonesia also recorded a 4.79-percent bed occupancy ratio and 2.39-percent fatality rate during the same period, he added.
The first case of COVID-19 in Indonesia was confirmed in March 2020. According to data from the COVID-19 Handling Task Force, as of December 30, the nation has recorded 6,719,327 COVID-19 cases, 6,545,132 recoveries, and 160,593 deaths.