Shortlink :
https://www.oananews.org//node/632595
The shortlink copeid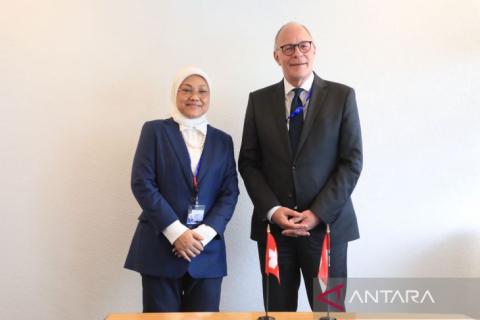 Indonesia meets Swiss official to strengthen employment cooperation
Jakarta, June 10 (ANTARA) - Indonesian Manpower Minister Ida Fauziyah held a meeting with Head of the Labour Directorate at the State Secretariat for Economic Affairs (SECO) of Switzerland Boris Zürcher to bolster bilateral cooperation in the employment sector. According to the Manpower Ministry's statement on Friday, Fauziyah noted that the two countries had established several cooperation agreements, for instance, the agreement on the exchange of young professionals as well as a memorandum of understanding (MoU) on labor and employment cooperation. "The MoU was signed on June 18, 2019, in Geneva, Switzerland, between the Manpower Ministry of the Republic of Indonesia and the Federal Department of Economic Affairs, Education, and Research of the Swiss Confederation," she noted. At the meeting held on the sidelines of the 110th International Labor Conference in Geneva, Switzerland, on June 9, 2022, the manpower minister expressed hope that the MoU would strengthen cooperation on developing labor market policies. In addition, the MoU is expected to intensify collaborations regarding the improvement of international labor and employment standards as well as industrial relations. "I also expect that the MoU can help to increase the understanding of each country to promote (the realization of) decent work that can contribute to improving our economic activities," Fauziyah stated. Furthermore, she encouraged tripartite involvement to hold social dialog, exchange of information and practices, meetings and workshops, cooperation and capacity-building attempts, joint studies, as well as joint initiatives to support the implementation of the MoU. In addition, she looked forward to progress in the implementation of the Indonesia-European Free Trade Association (EFTA) Comprehensive Economic Partnership Agreement (CEPA). "I warmly welcome further discussion regarding the plan on the implementation of the Swiss Tripartite mission to Indonesia in November 2022," the minister remarked. According to the Indonesian Trade Ministry's website, the Indonesia-EFTA CEPA has been in effect since November 1, 2021. The EFTA is an economic forum comprising Iceland, Liechtenstein, Norway, and Switzerland.