Shortlink :
https://www.oananews.org//node/475794
The shortlink copeid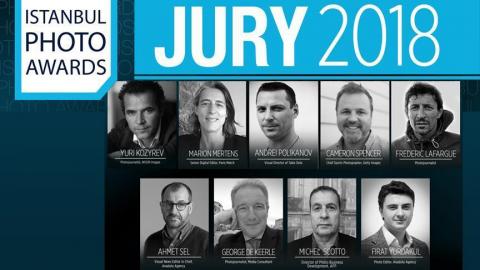 Istanbul Photo Awards announces jury for 2018 contest
ANKARA Jury members for the fourth Istanbul Photo Awards -- an international news and sports photography contest organized by Turkey's leading Anadolu Agency -- were announced on Wednesday. As in the past, this year's jury members are some of the most prestigious names in their fields. Two new names have been added to this year's panel for the first time. They include -- Andrei Polikanov, an important photo news editor, and Frederic Lagargue, winner of last year's Istanbul Photo Awards, for his image "Fleeing From Daesh". Marion Mertens, a senior digital editor at Paris Match in France, Cameron Spencer, Getty Images chief photographer, Yuri Kozyrev, photojournalist with Netherlands-based Noor images, Georges De Keerle, photographer and visual media adviser, Michel Scotto, AFP director of photo business development, Ahmet Sel, visual news editor for Anadolu Agency and Firat Yurdakul, photography editor for Anadolu Agency -- return as jury members this year. New jury members Polikanov worked as a freelance photographer in conflict zones such as Nagorno-Karabakh, Chechnya and Tajikistan, ahead of his career as an editor. His work has appeared in leading news organizations such as the New York Times, Time, Stern, Focus, Spiegel, and Paris Match. After working as a photo editor for the Time Magazine from 1995-2007 in Moscow, he served as photography director at the Russian Reporter Magazine until 2015. Polikanov has been working as visual director with Russia-based Takie Dela online media since April 2015. He has given trainings to photojournalists worldwide since 2015. Lafarge has worked as a photojournalist for French agency Gamma Press and local newspapers in the country. He has focused on the Middle East since 2001 and his works have appeared in Newsweek, Time, Le Monde, Stern, and Guardian. Currently, he is following developments in Palestine, Iran, Syria, and Egypt. - Applications to continue till Jan. 31 Entry applications for the Istanbul Photo Awards 2018 started on Nov. 1 and will continue until Jan. 31, 2018. The results of the contest will be announced by the end of March. Turkish Airlines sponsors the contest, which will also be supported by the Turkish Prime Ministry's Promotion Fund and the Turkish Cooperation and Coordination Agency (TIKA). Applications will be submitted on www.istanbulphotoawards.com. The winning photos will be compiled in a book and will be distributed to important photojournalists and institutions. The winning photos will also be displayed at exhibitions inside and outside Turkey all-year-around. The jury members will hold a number of workshops and panel discussions as part of the contest.