Shortlink :
https://www.oananews.org//node/529941
The shortlink copeid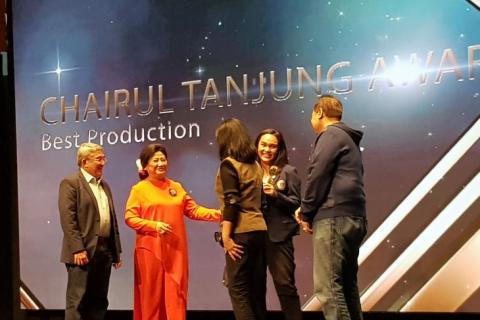 London School Jakarta Has A New Campus In Bekasi, Indonesia
Bekasi, West Java, April 21 (ANTARA) - The London School of Public Relations (LSPR) Jakarta has inaugurated a new campus in Bekasi City, West Java, which was marked by the grand launch of the LSPR Transpark Juanda campus. "This new campus is an extension of the LSPR Jakarta campus in Sudirman area and complements the existing lecture facilities," Director and Founder of LSPR Jakarta, Prita Kemal Gani, said at the launch ceremony here, Saturday. The new LSPR campus has basic to up-to-date learning facilities to adapt to technological developments, Gani said, adding that these facilities aim to produce graduates who are able to respond to industry needs and face challenges in the professional world. "In the future, human resources, including the alumni of LSPR, will not only be able to compete with those from other campuses, but will also compete with robots that would be hired to improve human work," Gani said. According to her, LSPR is also cooperating with the industrial sector, educational institutions, including a number of Indonesian and foreign universities, which is aimed at improving the quality of teachers and students. "At least 50 international institutions have been collaborating with LSPR in the form of lecturer and student exchanges. Every semester, LSPR sends several lecturers and students to a number of educational institutions abroad, and welcomes foreign lecturers and students at LSPR," Gani noted. LSPR is also carrying out a joint project with De Montfort University, UK, in which a number of lecturers and students conduct learning activities at the LSPR campus in Jakarta. Gani hoped that lecturer and student exchanges would increase the competitiveness of LSPR teachers and graduates at the world level. In addition, LSPR's collaboration with international institutions also includes a professional certification assessment to prepare alumni to respond to industry challenges. Meanwhile, the Executive Secretary of the Private Higher Education Coordination of Region III Jakarta, M. Samsuri, said with the increasing lecture facilities, LSPR is expected to become a reference for other campuses throughout the country, even across the world. "I see that facilities at the new LSPR campus are a good representative for lectures and have fulfilled the requirements to apply for an institutional accreditation," he said, hoping that LSPR could generate professors so the school could immediately become an educational institute. At the launch, LSPR also announced the winner of the Chairul Tanjung Award for the best production category of the Sustainable Development Goals (SDG) film festival. The film festival is a collaboration between LSPR and De Montfort University. The new LSPR campus, also known as LSPR Transpark Juanda, has 15 floors that are used as classrooms, television studios, film studios, radio studios, music studios, computer laboratories, multimedia suites, a library, and a performance room.