Shortlink :
https://www.oananews.org//node/535899
The shortlink copeid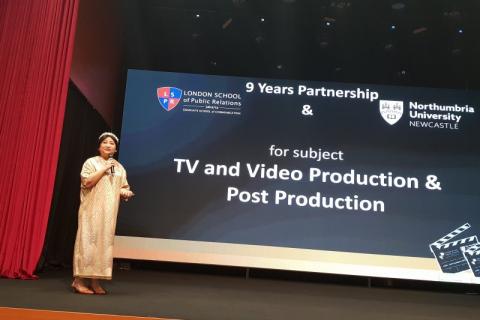 LSPR, Northumbria University Collaboration Produces 2,000 Short Films
Bekasi, W Java, June 23 (Antara) - LSPR, Northumbria University collaboration produces 2,000 short films. The collaboration between the London School of Public Relations (LSPR) Jakarta and Northumbria University, New Castle, UK which has continued for 11 years, has produced nearly 2,000 short films. "Since 2011, LSPR and Northumbria University have screened almost 2,000 short films of very good quality, and some of them won awards at the Manhattan International Film Festival," LSPR Jakarta's Founder and Director, Prita Kemal Gani, said at the LSPR and Northumbria University film festival here on Saturday. The LSPR Jakarta and Northumbria University collaboration includes TV and video production, as well as post-production activities. In 2019, the two renowned universities held a film festival for LSPR students majoring in Mass Communication. "The students who participated in the film festival have enrolled in a series of workshop from professionals related to the field of cinema, such as special effects and makeup, film script writing, shooting, acting, and directing," Prita explained. She added that the LSPR Jakarta-Northumbria University Film Festival presented 30 awards in 2019 to participating students. Meanwhile, Head of the Faculty of International Development, Northumbria Design School, Lee Barron, said his task as a judge at this year's film festival was more difficult than in the past because the work by LSPR students had increased both in number and quality. "The scope of assessment is expanding, and many more students are participating in this year's film festival," he said, adding that the work submitted by LSPR Jakarta students was the best he had ever seen. He explained that making a seven-minute short film was not easy and always challenging. "Telling human life stories in just seven minutes is a challenge. I see that the story telling in the film by the students is of a very high quality and complex," Lee said. He praised the work of the students, saying that these short films were a form of their creativity, dedication and very hard work. "There are stories about heroism that can affect the younger generation and society. I see directors and editors having excellent talent, and shooting from the air produces stunning images, "Lee said. He added, "The students never disappointed me. There was no story told twice. This shows high originality and hard work. Even among those have never made a film at all. I am amazed and their works are outstanding," Lee said. The film festival award consists of 11 categories, including cinematography, special effects, script writers, makeup and costume, supporting actor, leading actor, supporting actress, leading actress, best directors and films.