Shortlink :
https://www.oananews.org//node/667326
The shortlink copeid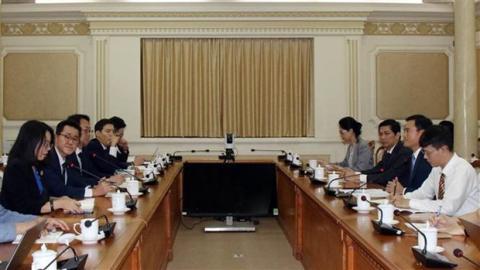 HCM City seeks cooperation with RoK in environmental issues
HCM Cit, September 15 (VNA) - Ho Chi Minh City welcomes the Republic of Korea (RoK)'s businesses and investors to learn about, cooperate with and invest in the city in the fields of green economy, and wastewater and waste treatment, Vice Chairman of the municipal People's Committee Bui Xuan Cuong said on September 14. Hosting RoK Vice Minister of Environment Lim Sangjun who is on a working visit to Vietnam to attend the HCM City Economic Forum 2023, Cuong expressed his hope that the RoK, with its experiences, will assist the city in transferring technology, training human resources, and encouraging Korean firms to invest in this field. Lim said that the issue of green growth and sustainable development has received attention of all countries around the world. The RoK has experiences in this field and is willing to share them and relevant policies with the city, he stressed, adding that many Korean businesses are showing interests in projects related to wastewater treatment in the city, especially those in the form of public-private partnership (PPP). The same day, Cuong had a working session with a leader from the RoK's Samsung Engineering Co., Ltd. that also wants to cooperate with the city in wastewater treatment projects./.