Shortlink :
https://www.oananews.org//node/667859
The shortlink copeid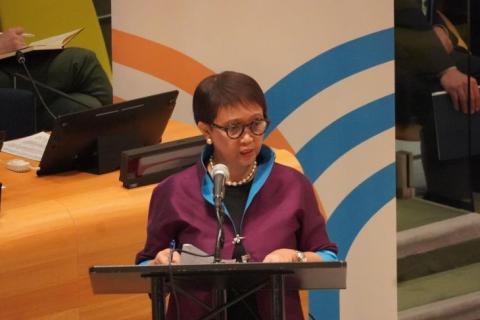 Indonesia calls on UN to reform multilateral system
Jakarta, 22/9 (ANTARA) - Indonesian Foreign Minister Retno Marsudi on Thursday (September 21, 2023) urged the United Nations to reform the current multilateral system to build a more peaceful and prosperous world.

The minister made the statement during the "Summit of the Future (SoTF) Preparatory Ministerial Meeting," which was held on the sidelines of the 78th UN General Assembly in New York, the United States.

"The SoTF, scheduled to take place in September next year, aims to accelerate global collaboration to face challenges and create a better future," she highlighted during a press briefing broadcast on the Foreign Affairs Ministry's YouTube channel on Friday.

The minister expressed the hope that the summit would result in the Pact of the Future, which is expected to help countries establish a better multilateral architecture for the sake of ensuring peace and prosperity for all.

She further said the discussion at the summit should focus on measures for creating a strong architecture for peace.

To create such an architecture, she urged all nations to consistently adhere to the UN Charter and international law, commit to peaceful conflict resolution, strengthen multilateral cooperation, realize inclusive regional cooperation, and strengthen the UN Peacekeeping Forces.

Furthermore, Minister Marsudi also placed emphasis on the importance of transforming the UN Security Council into a more transparent, democratic, and effective body for the sake of realizing and maintaining world peace.

She then stressed that at the SoTF, all parties should discuss efforts to create a more prosperous world for all.

In this context, she said that all nations need to build an open, fair, and non-discriminatory multilateral trade system, respect the right to development of developing countries while heeding their voices and interests, and create an inclusive global financial system.

Referring to the preferred multilateral trade system, she stressed that the system should prioritize a green and sustainable economy by optimizing technology and creating innovation.

Furthermore, all nations must ensure that the system helps pave the way for the realization of a resilient global economy by strengthening global health architecture, food and energy security, financial stability and the digital economy, she said.

"These joint efforts must be based on the principles of collaboration, solidarity, and win-win solutions," she added.