Khanh Hoa: Sea festival to feature light show of over 1,600 drones
Printer-friendly version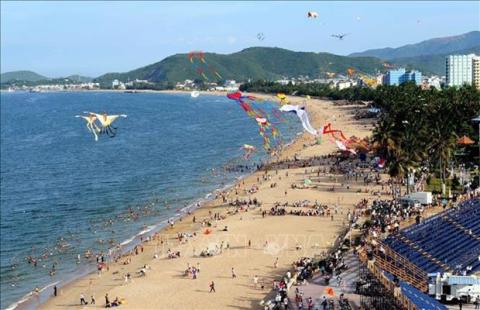 Khanh Hoa, May 26 (VNA) – An artistic light show of 1,653 drones will delight audience at the live-broadcast opening ceremony of the 2023 Nha Trang-Khanh Hoa Sea Festival slated for June 3 in the south central province of Khanh Hoa.
Unveiling the information at a press conference in the local Nha Trang city on May 25, Vice Chairman of the People's Committee of Khanh Hoa province Dinh Van Thieu said the new feature is expected to be a unique mark of the festival.
Khanh Hoa has prepared to ensure related infrastructure, social security and order, and COVID-19 prevention and control, among others, noted Director of the provincial Department of Culture and Sports Nguyen Van Thien.
Lasting until June 6, the biennial festival will treat visitors to more than 60 events taking place in Nha Trang and other localities. Highlights among them include an art program on June 4, a musical gala on June 5, and a closing ceremony on June 6.
In 2022, the province welcomed 2.57 million tourists, raking in nearly 14 trillion VND (590.5 million USD) in tourism revenue. This year, it targets four million tourists, including 1.5 million foreign visitors, and a revenue of approximately 21 trillion VND./.