All Indonesians to get free COVID-19 boosters
Printer-friendly version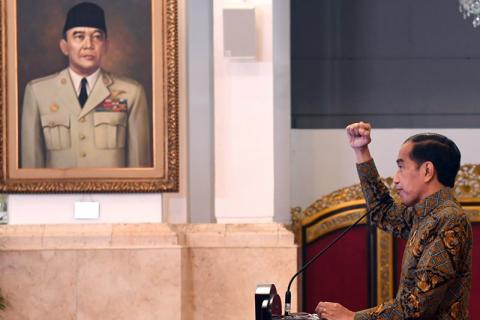 Jakarta, January 11 (ANTARA) - The Indonesian government has decided to provide the third or booster dose of the COVID-19 vaccine to all Indonesians free of charge, President Joko Widodo (Jokowi) announced here on Tuesday.
"I have decided that the COVID-19 booster vaccine will be free of charge for all Indonesians because once again I emphasize that people's safety is our first priority," the President said.
The COVID-19 booster vaccine will be administered from January 12, 2022, he added.
"The government will start administering the third dose of the COVID-19 vaccine on January 12, 2022. We will prioritize the vaccine for the elderly and vulnerable groups," Widodo informed.
The booster vaccine is considered important for increasing the community's immunity in view of the fact that the COVID-19 virus has continued to mutate, he said.
"People who are eligible to receive the vaccine booster are those who have been fully vaccinated for a minimum of six months," the President informed.
However, after receiving the booster vaccine, people must remain disciplined in implementing the health protocols, he stressed.
"Wearing masks, maintaining distance, and washing hands are still mandatory because vaccinations and health protocols are important for overcoming the pandemic," he added.
There are five vaccines that have received emergency-use authorization from the National Agency of Drug and Food Control (BPOM) for use as booster vaccines: Sinovac/Coronavac, Moderna, Pfizer, AstraZeneca, and Zifivax.
Based on data from the Ministry of Health, as of Tuesday noon local time, 171,056,204 Indonesians have received the first dose of the COVID-19 vaccine (82.13 percent of the target) and 117,333,660 people have received the second dose (56.34 percent of the target).
Meanwhile, 1,328,659 (90.46 percent) of health workers have been administered the booster vaccine. The government is targeting to fully vaccinate 208,265,720 Indonesians.
Currently, there are only five provinces with vaccination coverage below 70 percent—West Sumatra, West Sulawesi, Maluku, West Papua, and Papua.