Shortlink :
https://www.oananews.org//node/624105
The shortlink copeid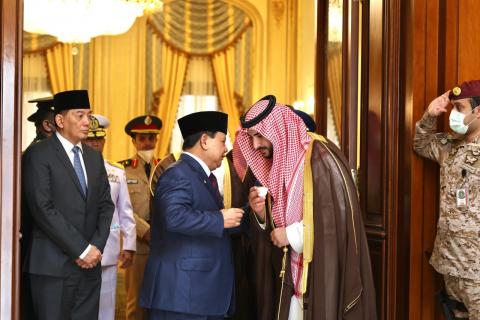 Indonesia, Saudi Arabia discuss defense industry cooperation
Jakarta, March 8 (ANTARA) - Indonesian Defense Minister Prabowo Subianto met with Prince Khalid bin Salman in Riyadh, Saudi Arabia on Monday to discuss the potential for defense industry and education cooperation. During their meeting, Subianto and Prince Khalid, who is also Saudi Arabia's Deputy Defense Minister, discussed efforts to enhance military and defense cooperation as well as global and regional issues related to the interests of the two countries. The meeting was a part of Subianto's working visit agenda in Saudi Arabia, which included attending the IISS (International Institute for Strategic Studies) Riyadh 2022 and the World Defense Show 2022 events in Riyadh. During the meeting, the Prince warmly welcomed Subianto and they ate breakfast, accompanied by the Commander of the Saudi Arabian Armed Forces. Subianto and Prince Khalid also enjoyed Saudi Arabian coffee while exchanging ideas about defense. So far, defense cooperation between Indonesia and Saudi Arabia has been well established, Subianto noted. The defense cooperation was strengthened through the signing of the Defence Cooperation Agreement (DCA) between the Government of the Republic of Indonesia and the Government of the Kingdom of Saudi Arabia, on January 23, 2014, in Jakarta, which was ratified in 2018, he said. Meanwhile, in defense education, the ministries of both countries are already running the commissioned officer exchange program as part of education and training collaboration, he added. During 2014–2022, Indonesia also sent 178 people to attend courses in Saudi Arabia such as the military college and enlightenment course on countering extremism. Meanwhile, Saudi Arabia sent two officers to the Indonesian Army Command and General Staff College, and requested the addition of seats for each force.