Shortlink :
https://www.oananews.org//node/507085
The shortlink copeid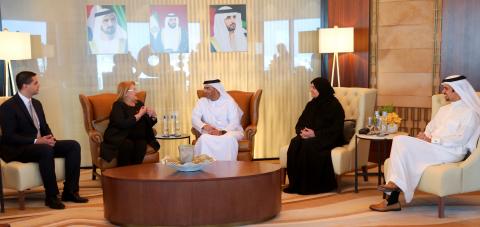 Maltese President calls for establishing new economic partnerships with UAE
DUBAI, 3rd October, 2018 (WAM) -- Marie Louise Coleiro Preca, President of Malta, called for the establishment of new economic partnerships between the UAE and Malta, and expressed the intention to attract more UAE investors to her country. The Maltese President's remarks came during the UAE-Malta Business Seminar, which was organised by Dubai Chamber of Commerce and Industry in cooperation with Consulate General of Malta in Dubai. The seminar, held at Dubai Chamber's premises, came on the sidelines of a high-level delegation visit to the UAE, led by the Maltese President. Addressing attendees at the seminar, President Preca lauded the strong bilateral relations between Malta and the UAE and highlighted the many similarities and synergies that the two countries share as trade and maritime hubs for their respective regions. She explained that her visit to the UAE has further convinced her of the need to build on these synergies and work closer together with key public and private sector stakeholders in the UAE to explore untapped potential and bilateral business opportunities. In his welcome speech, Majid Saif Al Ghurair, Chairman of Dubai Chamber, reaffirmed Dubai Chamber's commitment to improving UAE-Malta trade and investment ties, and expressed the intention to expand cooperation within various economic sectors, and the real estate sector in particular. He revealed that Dubai's non-oil trade with Malta amounted to US$23 million in 2017, and said that there is plenty of scope to boost the trade volume in the future and build new bridges between the UAE and Maltese business communities. "Malta's close proximity to European and North African markets, as well as its investor-friendly environment, offer plenty of advantages for Dubai-based companies that are keen to expand their global footprint or trade with markets in the region," said Al Ghurair. Dubai Chamber's Chairman added, "With the participation and valuable support of Marie Louise Coleiro Preca and Ian Borg, we are confident that our discussions will the Maltese delegation will help build on that progress and pave the way for new cooperation and partnerships." President Preca was received by Majid Saif Al Ghurair, Chairman of Dubai Chamber, Hamad Buamim, President and CEO of Dubai Chamber, as well as Dubai Chamber board members and senior officials. The visiting delegation included Ian Borg, Minister of Transport, Infrastructure and Capital Projects; Chris Agius, Junior Minister for Planning and Property Market; Sandro Chetcuti, Chairman of the Property Malta Foundation; and 30 Maltese business leaders representing a wide variety of companies and industries, in addition to representatives of the UAE Contractors Association.