Shortlink :
https://www.oananews.org//node/501274
The shortlink copeid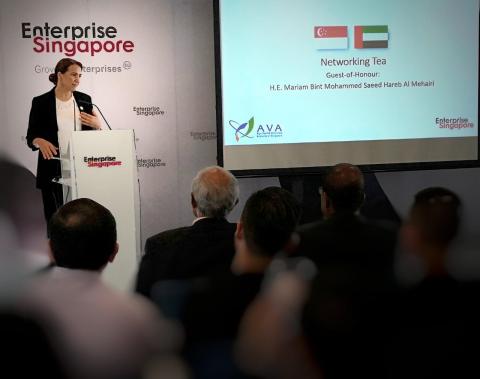 UAE, Singapore discuss cooperation in food security
DUBAI, 13th August, 2018 (WAM) -- Mariam Hareb Almheiri, Minister of State for Future Food Security, has discussed, with several Singaporean officials, cooperation in the area of food security between the UAE and Singapore, exchanging knowledge, best international practices, and how to benefit from their efforts. Their discussion took place during Almheiri's official visit to Singapore, as head of a delegation that included Mohammed Omar Abdulla Balfaqeeh, UAE Ambassador to Singapore, and representatives of the Food Security Centre in Abu Dhabi. The visit is part of the preparations for the launch of the "National Strategy for Future Food Security." Son Axoling, First Parliamentary Secretary of the Ministry of Home Affairs and Representative of the Ministry of National Development and the Agri-Food and Veterinary Authority of Singapore, AVA, presented the latest food technologies used in Singapore to the delegation, such as closed vertical farming and home farms, which have made Singapore among the leading five countries in the world in terms of food security, according to the "World Food Security Index 2017." Almheiri and her delegation visited the "Applied Researches Laboratories," where she met with a group of leaders of the private sector and marine and aquatic life facilities that have adopted modern technologies, such as organised dynamic environments. They also visited local farms that use the latest pasteurisation technologies and reviewed leading international programmes in food production, with the aim of identifying and adopting the most innovative practical and theoretical technologies. The delegation also visited the National University of Singapore to review the "Black Soldier Fly" technology used to treat food waste without transferring diseases. The technology can process waste into either high-protein animal feed or plant fertilisers. The delegation also discussed, with the university, its major areas of research related to food security, as well as the means of strengthening their joint efforts and potential cooperation. They then discussed a series of plans, which aim to encourage the exchange of best practices and practical approaches related to food security between the UAE and Singapore.