The President Receives The Permanent US Representative To The UN In New York
Printer-friendly version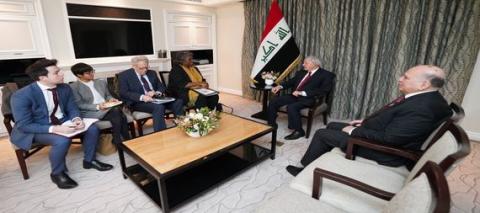 Baghdad / NINA /- The President of the Republic, Abdul Latif Jamal Rashid, received today, Friday, at his residence in New York, the Permanent Representative of the United States of America to the United Nations, Ambassador Linda Thomas Greenfield, and her accompanying delegation, in the presence of Foreign Minister Fuad Hussein, on the sidelines of the Water Summit held in New York.
During the meeting, the water crisis and the threat it poses to food security and environmental diversity in Iraq were discussed, in addition to the negative effects of climate change and the tangible decrease in water flow rates from the upstream countries.
The President of the Republic indicated that Iraq suffered from climate change, high temperatures and water shortages due to lack of rain and population growth, as well as due to some water policies of neighboring countries.
He stressed Iraq's need to know the water plans of the riparian countries to be able to develop the necessary plans and reach adequate and fair shares with these countries.
The President stressed that there are plans at a high level to reach real solutions to the issue of water, and that the government is serious about its work and is awaiting the approval of the budget to complete the necessary projects in this regard, pointing to the need to improve water management methods and develop mechanisms to respond to the effects of climate change and high temperatures in Iraq.
The President of the Republic spoke about the importance of developing serious solutions to address environmental pollution resulting from the energy sector, pointing to the existence of upcoming projects related to the issue of gas and addressing its negative effects on the environment.
Rashid touched on the file of the displaced in Iraq, pointing out that their situation requires serious and quick work to end this file, and this requires greater efforts by international organizations to help Iraq return the displaced to their areas after rehabilitating them and providing them with a decent life.
They also discussed bilateral relations between Iraq and the United States and expanding the horizons of cooperation between the two friendly countries in a way that serves the common interests of the two friendly peoples.
In turn, Ambassador Greenfield expressed her country's desire to strengthen joint relations with Iraq, stressing the United States' keenness to support Iraq in the field of addressing water scarcity and overcoming this crisis, especially by providing expertise to support and improve the issue of water management in Iraq and also through the UNAMI mission in Iraq. / End