Mohammed bin Rashid increases Dubai World Cup prize money to $35 million
Printer-friendly version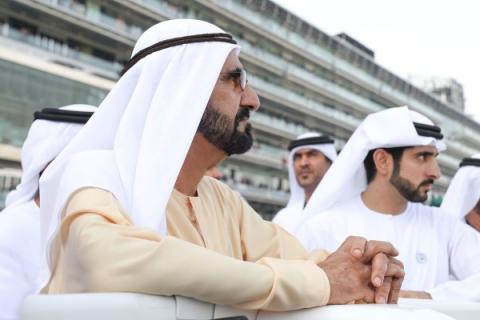 DUBAI, 25th July, 2018 (WAM) -- Vice President and Prime Minister of the UAE and Ruler of Dubai His Highness Sheikh Mohammed bin Rashid Al Maktoum has issued directives to increase the prize money of the main Dubai World Cup race to USD12 million (AED44 million), and the total prize money awarded at the various races held during the Cup to USD35 million (AED129million).
His Highness also issued directives to increase the total prize money given away at other races held at the Meydan Racecourse to USD1.83 million (AED6.7 million), effective from the 2018-2019 racing season.
Board Chairman of Meydan Group Saeed Humaid Al Tayer thanked Sheikh Mohammed for his continuous support for the development of horse racing and the Dubai World Cup, which was launched by His Highness more than 20 years ago.
Al Tayer said the increase in the event's prize money highlights Sheikh Mohammed's keenness to support the growth of horse racing, and ensure that the UAE has a superior infrastructure for the development of sport in general and horse racing in particular. His Highness's directives provide further impetus to the global prestige of the Dubai World Cup and its status as the richest horse racing tournament in the world, he added.
Horse racing in the UAE is deeply rooted in the nation's cultural heritage. The UAE is considered one of the leading nations in the sport, largely due to the global prominence achieved by the Dubai World Cup, which attracts horse racing fans and professionals from across the world.