UAE becomes first Arab member in IAARC
Printer-friendly version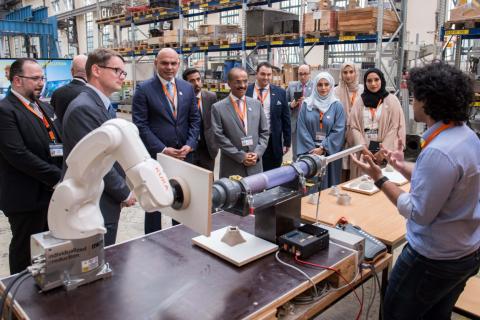 BERLIN, 24th July, 2018 (WAM) -- The UAE has obtained the membership of International Association on Automation and Robotics in Construction (IAARC), the premier global organisation dedicated to the advancement of automation and robotics in construction, to become the first country in the Middle East to join the 22 member of the Berlin-based organisation.
The UAE gained the membership at the end of the 35th International Symposium on Automation and Robotics in Construction (ISARC 2018), which opened
by Dr. Abdullah bin Mohammed Belhaif Al Nuaimi, UAE Minister of Infrastructure Development, in Berlin, Germany. About 300 participants from more than 40 countries
attended the event.
The UAE was the guest of honour at this year's event.
On the sidelines of the meeting, the UAE delegation, which included Ali Abdullah Al Ahmed, UAE Ambassador to Germany, held a coordinating meeting with the IAARC's Board of Directors, where they reviewed the UAE's artificial intelligence strategy. UAE team also presented the UAE Auto Architect/Consultant, the world's first AI-enabled project.
''The UAE's participation as a guest of honour in the 2018 event underscores its prominent stature in area of AI and its ability to cope with future innovations,'' the minister said.
The UAE has signed a cooperation agreement with the IAARC to embed AI into infrastructure projects, share expertise and to encourage, facilitate and promote the coordination
of scientific and technical development in Automation and Robotics in Construction (ARC).
IAARC aims to facilitate the collection, compilation, publication, exchange and dissemination of scientific ARC data and information; encourage the execution of fundamental ARC studies;
advance research, laboratory investigations and field tests and to accelerate the use of ARC; and to assist the end-user application of Automation and Robotics in the Construction Industry.