Indonesia encourages tourism village development in Bangka Belitung
Printer-friendly version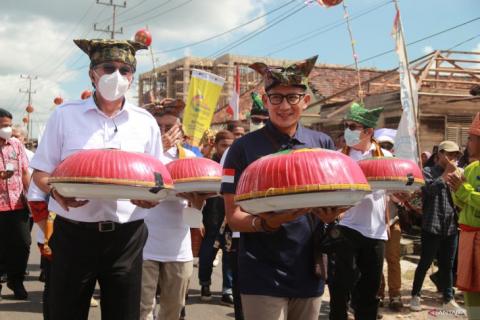 Bangka Belitung, Aug 12 (ANTARA) - Minister of Tourism and Creative Economy Sandiaga Salahuddin Uno encouraged people in Bangka Belitung Islands Province to develop tourism village programs.
"This year, we want to open up 1.1 million new jobs, and by 2024, our target is 4.4 million new jobs by developing programs like this tourism villages," Uno noted during his working visit here on Thursday (Aug 11).
The minister said the tourism village program was focused more on developing various tourist destinations and the creative economy.
"These jobs can be created by tourism and the creative economy sector. This sector can even reach a value six folds higher than that of the mining sector," he remarked.
Uno remarked that the community's economy will improve graphically if economic activity is focused on quality and sustainable development and has a direct impact on the local economy.
The tourism village program is an effort to revive the tourism sector and the creative economy, he remarked.
"Apart from attracting public interest, this can also open up more job opportunities and business opportunities," Uno noted.
Uno also said that his ministry organized the 2022 Indonesian Tourism Village Award (ADWI), which is a flagship program in order to drive the Indonesian economy and tourism development.
"This program was created to revive the village economy as well as a means of promotion to showcase the potential of tourist villages in Indonesia to domestic and foreign tourists," he stated.