Shortlink :
https://www.oananews.org//node/667253
The shortlink copeid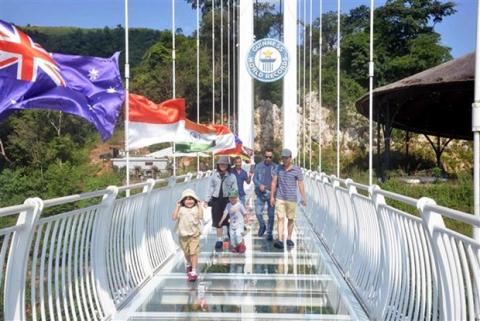 Vietnam gets major haul at 2023 World Travel Awards
Hanoi, September 14 (VNA) – Vietnam was honoured in 45 categories of the 2023 World Travel Awards, one of the leading tourism awards in Asia, which is dubbed as the "Oscars of Tourism". At the 2023 World Travel Awards (WTA)' Asia & Oceania gala ceremony held in Ho Chi Minh City, Vietnam was named Asia's Leading Destination for the fifth time and Asia's Leading Nature Destination for the second time in a row. Meanwhile, Vietnam National Authority of Tourism (VNAT) continued to receive the "Asia's Leading Tourist Board" award. Notably, the capital city of Hanoi won the "Asia's Leading City Destination 2023" and Asia's Leading City Break Destination 2023" awards. The Hanoi Department of Tourism received the title "Asia's Leading City Tourist Board" for the first time. Meanwhile Ho Chi Minh City won "Asia's Leading Business Travel Destination" and "Asia's Leading Festival & Event Destination 2023" awards. At the same time, Hoi An was honoured as Asia's Leading Cultural City Destination 2023, while Moc Chau was named Asia's Leading Regional Nature Destination 2023. Phu Quoc Island won the "Asia's Leading Luxury Island Tourism Destination 2023" award. The northernmost border province of Ha Giang for the first time won the title of "Asia's Leading Emerging Tourism Destination". Northern Ha Nam province received the award for "Asia's Leading Regional Cultural Destination 2023" for the first time. Alongside, many famous Vietnamese brands in the fields of hotels, resorts, airlines, and travel firms also won in several categories of WTA 2023. Speaking at the awarding ceremony, WTA Founder and President Graham Cooke underlined that Vietnam is a beautiful country with a strong cultural identity, owning many UNESCO-recognised heritage, that is becoming a favourite destination for tourists all over the world. Cooke lauded Vietnam's tourism industry performance in the first eight months of this year, hitting their target for international tourist numbers for the whole year. Vietnam's new visa policy has created favourable conditions for international tourists to visit and travel the country, showing the great attention and efforts of the Government in tourism development. Graham Cooke said he hoped that the policy will bring about positive results in the number of international visitors for the country in the coming time./.