Shortlink :
https://www.oananews.org//node/667257
The shortlink copeid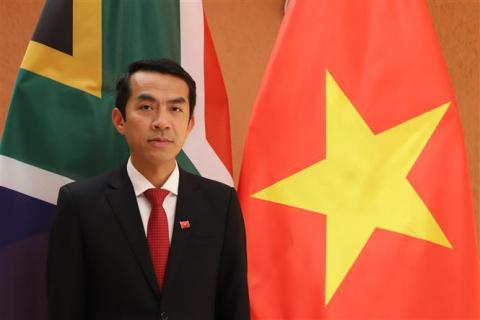 Vietnam, South Africa develop substantive, fruitful relations: ambassador
Pretoria, September 14 (VNA) – Since bilateral diplomatic ties were set up 30 years ago, Vietnam and South Africa have made unceasing efforts to develop substantive and fruitful relations in multiple fields, said Vietnamese Ambassador to South Africa Hoang Sy Cuong. Cuong talked about the achievements and prospects of bilateral relations in an interview granted to the Vietnam News Agency on the occasion of Vice President Vo Thi Anh Xuan's official visit to South Africa from September 14 to 17 and the 30th anniversary of their diplomatic ties. He noted that the two countries established diplomatic relations on December 22, 1993, but their ties had begun long before that, with the historic milestone being the meeting between representatives of the Government of the Democratic Republic of Vietnam (now the Socialist Republic of Vietnam) and the African National Congress party on the sidelines of the Bandung Conference in Indonesia in 1955. The two countries are currently leading African and Southeast Asian partners of each other. Amid fast and complex changes in the world, they still share similar viewpoints on security, cooperation and development issues and show their determination to tighten bilateral connections, he went on. Over the last 30 years, relations between their Parties, States, and peoples have been growing well while multifaceted cooperation has been reinforced and reaped good results, according to Cuong. In terms of politics, they have maintained trustworthy and close relations as seen in frequent mutual visits, which have helped increase mutual trust and experience sharing and set up directions for cooperation between their ministries, sectors, organisations, localities, and businesses. They have also coordinated with and supported each other at many important international forums such as the United Nations, the Non-Aligned Movement, and the South - South Cooperation. Vietnam in July 2023 actively promoted the recognition of South Africa as a sectoral dialogue partner of the Association of Southeast Asian Nations (ASEAN). South Africa also supported Vietnam to become an observer of the African Union in 2022. Holding the rotating presidency of BRICS, South Africa invited Vietnam to attend the BRICS Summit on August 24, 2023. South Africa is the only cooperative partner for development of Vietnam in Africa at present, he elaborated. Noting the growth of economic links, the ambassador said bilateral trade rose six-fold to nearly 1.3 billion USD in 2022 from 192 million USD in 2007. Particularly, their trade stayed stable during the COVID-19 pandemic, reflecting the relatively stable demand for each other's goods and the complementarity of their export structures. Vietnam mainly exports mobile phones and components, apparel, footwear, and farm produce to South Africa while importing fruits, timber, minerals, and chemicals from the latter. The two sides have also paid attention to their partnerships in security, defence, peacekeeping operations, wildlife and biodiversity management, science - technology and innovation, higher education, justice, tourism, and wildlife trafficking combat, he added. Cuong held that to foster bilateral relations, the two countries should keep increasing delegation exchanges, especially at high levels; continuing mutual consultation and cooperation at multilateral forums to continually build up political trust; bolstering substantive and effective cooperation between their ministries, sectors, localities, and enterprises; further intensifying mutual understanding between the two peoples, especially the young; and paying due attention to the development of the Vietnamese and South African communities in each other's countries. They also should select the fields matching their strength and demand to enhance cooperation in such as mining, agriculture, renewable energy, tourism, education - training, trade, logistics, and finance - banking, he said, noting that South Africa with 60 million people is an important gateway to other African markets for Vietnam, which in turn with 100 million people is also important to South Africa's access to other markets in Southeast Asia. The diplomat also underlined the need to continue improving the efficiency of the Inter-Governmental Partnership Forum, the Joint Trade Committee, and other specialised cooperation mechanisms between the two countries. Particularly, they should make reviews to update, negotiate, and sign bilateral cooperation documents in different areas, and ensure the documents are feasible and practical. Talking about the coming official visit by Vice President Vo Thi Anh Xuan, Cuong said the trip, concurrent with a ceremony marking 30 years of bilateral diplomatic ties, holds great significance as it is expected to help further intensify the traditional friendship and create more momentum for both sides to foster substantive and effective cooperation./.