Shortlink :
https://www.oananews.org//node/179037
The shortlink copeid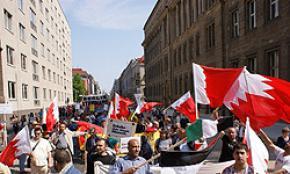 Somali Diplomat: Regional Dictators Cannot Escape Justice by Massacring People
TEHRAN,APRIL 30 (FNA)- A senior Somali diplomat condemned the Arab regimes of the region for using excessive force and violence against peaceful protesters, and said the autocratic rulers of the regional countries cannot rescue their regimes by massacring the defenseless people.
"Genocide and massacre of the innocent people cannot save the cruel rulers of the region," Deputy Head of Somalia's Embassy in Tehran Khalifa Moussa told FNA on Saturday.

"Change and evolution in the ruling system of the Islamic countries has now become inevitable."

He further stressed that the growing wave of Islamic awakening in the Middle-East, North of Africa and other parts of the Muslim world is inspired by Iran's 1979 Islamic Revolution, and stated, "The Islamic Revolution of Iran is a proper role model that has always been a source of benefit and interest for the Islamic countries."

Political observers believe that people's uprisings in Egypt, Tunisia, Bahrain, Jordan, Yemen and Libya are the result of a growing wave of "Islamic awakening" in the Middle-Eastern countries inspired by the Islamic Revolution in Iran.

Earlier this month, Supreme Leader of the Islamic Revolution Ayatollah Seyed Ali Khamenei underscored the profound and vast influence of Iran's Islamic Revolution on the growing wave of Islamic awakening in the region, and voiced confidence about the desirable outcomes of the current popular uprisings.

"Thanks to Islam and Islamic Revolution, a public Islamic awakening has happened in the region today, which will definitely yield its results as it has already yielded its results in certain points," Ayatollah Khamenei said, addressing a group of Iranian people here in Tehran.

"The more the people's determination, faith and readiness for sacrifice grows, the higher the chances of victory will be," the Leader continued.

In recent months, a wave of revolutions and anti-government uprisings has swept the Arab world.

In January, a revolution in Tunisia ended the 23-year ruling of former President Zine El Abidine Ben Ali.

In February, another Arab revolution led to the ouster of former Egyptian President Hosni Mubarak after three decades of his authoritarian rule.

Other revolutions are erupting in Libya, Yemen and Bahrain, while other anti-government unrests have swept Saudi Arabia, Jordan, Oman, Kuwait and Algeria.