Iranian Researchers Use Zinc Oxide Nanopowder to Produce Gas Sensors
Printer-friendly version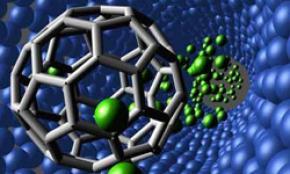 TEHRAN (FNA)- Iranian researchers at Paint Sciences and Technology Research Institute in association with their colleagues from Materials and Energy Research Institute produced a sensor that is sensitive to various gases such as oxygen, hydrogen and ethanol vapor through a simple and cost-effective methods, using zinc oxide nanopowder.
"In this research, coatings obtained from periodic electrophoretic deposition (EPD) method were used to synthesize gas sensors," Amir Reza Gardeshzadeh, one of the researchers, said.
Elaborating on the production method of the sensors, he said, "Two flat electrodes containing gold particles were firstly placed 200 micrometers distant from each other and in a parallel arrangement. Then, the deposition process took place in an appropriate suspension of zinc oxide by using a periodic electrical field. At the end, the properties of the sensor were analyzed."
Pointing to the fact that they succeeded in the production of a sensor that detects various types of gases such as oxygen, hydrogen, and especially ethanol vapor, Gardeshzadeh underlined, "Deposition took place inside the groove by choosing appropriate parameters, and the obtained coatings were free from any crack."
According to the researcher of this project, using zinc oxide nanoparticles was the reason for the achievement of denser coatings with higher quality. He also believes that using periodic electrical field in the electrophoretic deposition process was one of the advantages of this study.