Iran Sends "Nader and Simin" to Oscars
Printer-friendly version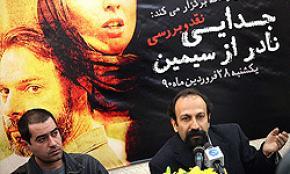 TEHRAN (FNA)- Iran selected Asqar Farhadi's "Nader and Simin, a Separation" as its nominee for the best foreign language film at the Oscars.
The film which tells the story of a crumbling marriage has won top prize at the Berlin Film Festival.
The French distributor of the movie, Memento Films, said in a statement on Friday that Asqar Farhadi's film was chosen to represent Iran at the 84th Oscars ceremony.
It will be submitted in the Best Foreign Film category ahead of the Oscars ceremony on February 26, said the statement, adding that the news was announced Friday in Tehran by an Iranian film body, the Farabi Foundation.
The film is also to be released by Sony Pictures Classics in US movie houses on December 30, in order to make it eligible to run in the Best Director and Best Screenplay categories, the statement said.
"A Separation" triumphed at the Berlin festival in February, picking up the Golden Bear award as well as top acting prizes for its entire cast.
Released in France in June, the film became a box office hit, attracting more than 900,000 viewers, and is still playing in more than 100 movie houses nationwide.