Ahmadinejad: US Accusations Aimed at Blocking Iran's Rise
Printer-friendly version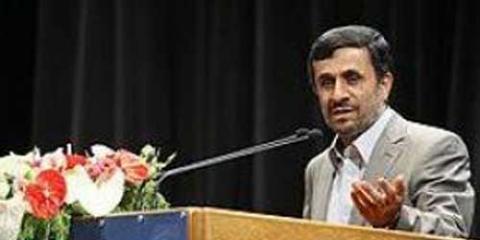 TEHRAN (FNA)- Washington's allegations against Tehran are intended to prevent the country from progress, President Mahmoud Ahmadinejad said on Sunday, stressing that such claims are raised to deter Iran from becoming a world power.
"The hegemonic system has today reached a deadlock and they cannot bear to see that a flag has been raised in the world which displays the culture, thought and revolutionary spirit of the Iranian nation, and they hatch plots to attack it for the very same reason," Ahmadinejad said alluding to the United States' recent allegations against Tehran.
He referred to the different political and economic pressures and sanctions imposed on the Iranian nation to impede its progress, and said all such embargoes have proved futile.
His remarks came after the US officials claimed on Tuesday that Iran had plotted to assassinate the Saudi Arabian ambassador to the United States, Adel Al-Jubeir.
US Attorney General Eric Holder claimed in an announcement on Tuesday that the plan was "conceived, sponsored and was directed from Iran" by a faction of the government and called it a "flagrant" violation of US and international law.
Hours later on Tuesday, Iranian Foreign Ministry Spokesman Ramin Mehman-Parast dismissed the US allegations as a prefabricated scenario which is totally unfounded.
"Such worn-out approaches which are based on the old hostile policies of the American-Zionist axis are a humorous act and part of the special scenarios staged and pursued by the enemies of Islam and the region to sow discord (among Muslims)," Mehman-Parast said.
Political observers believe that the United States has remained at loggerheads with Iran mainly over the independent and home-grown nature of Tehran's nuclear technology, which gives the Islamic Republic the potential to turn into a world power and a role model for other third-world countries.