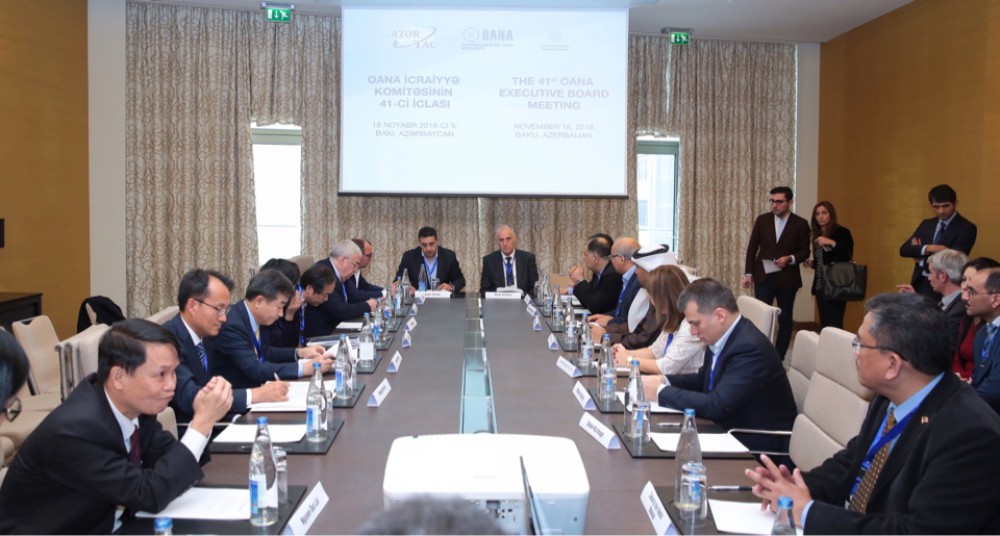 November 18, 2016, Baku, Azerbaijan
Participants: AZERTAC (Azerbaijan), TASS (Russia), Anadolu (Turkey), Yonhap (South Korea), Xinhua (China), IRNA (Iran), BNA (Bahrain), VNA (Vietnam), NNA (Lebanon), Kyodo (Japan), AAP (Australia), PTI (India), Bernama (Malaysia) and others.
OANA Secretary General Mr. Vugar Seidov`s welcoming remarks at the opening of the 41st OANA Executive Board meeting.
Mr. Vugar Seidov on behalf of AZERTAC thanked the Executive Board members and OANA members for their contributions and expressed hope for continued collaboration between members in further improving the work of the organization. He said that he would welcome any initiatives from the peers for perfecting the activities of the organization to achieve common objectives.
President of OANA, Director General of AZERTAC Mr. Aslan Aslanov`s address
Mr. Aslan Aslanov thanked TASS for outstanding work and support to AZERTAC throughout years of cooperation, expressed gratitude to TASS team working on holding the OANA General Assembly in Baku. He also thanked the Board members and congratulated Yonhap news agency of the Korean Republic that will host the next General Assembly in 2019.
Managing Director of IRNA Mr. Mohammad Khodadi`s remarks
Mr. Mohammad Khodadi complemented AZERTAC for organization of the 5 th NAWC and OANA sessions. He talked about the development of educational activities, social media, improvement of OANA's capacity to exchange materials. He also requested more detailed information to be made available on all OANA members. Mr Khodadi said that IRNA is ready to help and support AZERTAC in strengthening OANA.
Director General of BNA Mr. Muhammad Sulaiman Mohsen Alnoaimi`s remarks>
Mr. Muhammad Sulaiman Mohsen Alnoaimi requested to have regular meetings of the Board and expressed willingness to host the first meeting in Bahrain.
Deputy Director General of TASS Mr. Mikhail Gusman`s suggestion
Mr. Mikhail Gusman suggested to collect proposals from each agency before the meeting in Bahrain.
Concluding Remarks
The EBM participants decided to hold the next meeting of the Executive Board in Bahrain at the end of March, 2017.