43rd OANA Executive Board Meeting
Printer-friendly version
Send to friend
Minutes of the 43rd OANA Executive Board Meeting
September 3, 2018, Tehran, Islamic Republic of Iran
Participants (in alphabetic order):
Members of the Executive Board, Technical and Ethical Committees:
Anadolu Agency (Turkey), AZERTAC (Azerbaijan), Antara (Indonesia), BERNAMA (Malaysia), IRNA (Iran), Kazinform (Kazakhstan), Kyodo News (Japan), Mehr News Agency (Iran), MONTSAME News Agency (Mongolia), National News Agency (Lebanon), TASS (Russia), Vietnam News Agency (VNA), Xinhua News Agency (China), Yonhap News Agency (South Korea).
.
Invited members of OANA beyond its Executive Board:
National Iraqi News Agency (NINA), Qatar News Agency (QNA), Oman News Agency (ONA), Syrian Arab News Agency (SANA)
Guests:
Bulgarian Telegraph Agency (BTA)
Absent members of the Executive Board, Technical and Ethical Committees: Australian Associated Press (AAP), Bahrain News Agency (BNA), Emirates News Agency (WAM), Kuwait News Agency (KUNA)
Chairperson:
Secretary General of OANA, Mr. Vugar Seidov.
National Anthem of the Islamic Republic of Iran played, excerpts from Holy Quran recited and short video on the host country, Iran, screened before the EBM meeting convened.
Welcome addresses made by (see the speeches below):
Seyed Zia Hashemi, Managing Director of IRNA;

Aslan Aslanov, President of OANA, Chairman of the Executive Board of the AZERTAC agency;

Seyyed Abbas Salehi, Minister of Culture and Islamic Guidance.
The Secretary General of the News Agencies World Congress (NAWC), Director General of BTA, Mr. Maxim Minchev thanked for the invitation to the OANA's EBM, informed the participants about the 6th NAWC to be held in Sofia on June 13-14, 2019, and invited them to attend the Congress.
The Board approved the minutes of the 42nd EBM held in Beirut on May 3, 2017, as well as the agenda of the current, 43rd EBM.
The Board listened to the report by the Secretary General, who
stressed the importance of working-out strict criteria for membership in OANA;

informed the Board about his attendance of the 26th General Assembly of the Alliance of Mediterranean News Agencies (AMAN) on July 4-5, 2017, in Agadir (Morocco) and the 2nd General Assembly of the Atlantic Federation of African Press Agencies (FAAPA) on December 7-8, 2017, in Casablanca (Morocco), as an observer from OANA;

informed the Board about the FAAPA's initiative to sign a cooperation agreement with OANA;

raised the issue of empowering the Secretary General, upon the consent of the Executive Board, to initial agreements on cooperation with various regional and sub-regional news agencies alliances and organizations with subsequent ratification by the General Assembly;

suggested to adopt a symbolic flag of OANA that could be used during the events where OANA's delegate is represented as an observer or a guest;

proposed to change the format of future EBMs and General Assemblies by adding academic content in the form of round-tables, workshops, conference-like sessions with the participation and presentations made by renowned experts, university professors in the field of media;

updated the Board about the collection of membership fees by OANA members;

presented the report by the Technical Committee.
The Board endorsed the Secretary General's proposals with the following amendments by the delegates:
to form a working group comprising of the three agencies – the current, previous and next presiding agencies in OANA (TASS, AZERTAG and Yonhap) – in order to draft proposals on the amendments to the Charter regarding the membership criteria to be discussed at the next EBM and then taken out to the General Assembly for the formal adoption through voting (proposed by AZERTAG);

to recommend the Secretary General to present within one month to the same working group the black-and-white and color drafts of the OANA flag to be discussed at the next EBM and then taken out to the General Assembly for the formal adoption through voting (proposed by TASS);

to call the initialed and subsequently ratified documents "memorandums of understanding" rather than "agreements" to avoid any possible legally-binding commitments between OANA and its counterparts (proposed by BERNAMA);

to draft internal OANA procedure regarding the ways of carrying out the payment of the membership fees by agencies with specific banking policies and international limitations (proposed by Mehr News Agency).
The Director of International Relations of Yonhap News Agency, Ms. Kim Jinhyung, updated the Board about the progress toward the preparations for the 17th General Assembly and suggested the dates, 6-9/10 November, 2019 (arrival on 6th, working on 7th-8th and leaving on 9th-10th November).
The General Director of Vietnam News Agency, Mr. Nguyen Duc Loi, invited the Board to Hanoi for the next EBM and suggested the dates 18-20/21 April, 2019 (arrival on 18th, working on 19th and leaving on 20th-21st April).
On behalf of the Director General of MONTSAME News Agency, Ms. Ganchimeg Badamdorj, the agency's delegate, the Director of Information Technology Department, Mr. Bayarsaikhan Sanaidagva, invited the Board to Mongolia for the first EBM after the 17th General Assembly and suggested it to be held in July, 2020, at the time of Naadam national festival.
The Deputy Director-General and Editor-in-Chief of Anadolu Agency, Mr. Metin Mutanoglu, invited the Board for one of the EBMs to be held in his country. The exact dates of the two post-General Assembly EBMs (in Mongolia and Turkey) will be announced later.
The Board sustained IRNA's application for the presidency in OANA in 2022-25 and recommended to take it for the voting at the forthcoming General Assembly in Seoul along with other possible nominations in accordance with the Charter.
The Board listened to the speeches by Dr. Seyed Zia Hashemi and Mr. Aslan Aslanov on the topic "Turning OANA into an Efficient Professional Alliance". Mr. Aslanov suggested to add academic content to the OANA gatherings by inviting key-note speakers and professional experts; think how to not only collect the membership fees, but also spend them for the benefit of the organization; found a virtual OANA Academy for the training purposes by engaging experienced personalities; establish the permanent secretariat elected (with the possibility of re-election) by the General Assembly separately from, and irrespective of, an agency presiding in OANA; establish an OANA Prize to be awarded to the veterans and other prominent members of the organization who played a significant role in the development of the alliance (and named Mikhail Gusman as an example of such personalities).
The Board endorsed most of the proposals, suggested to use the time between the current and the next EBMs in order to work more thoroughly on the item concerning the establishment of a permanent secretariat and return to this matter at the next EBM with the detailed and clearer vision of this issue. AZERTAG agreed to continue its study of the issue in more of a detail and resubmit the updated proposal in Hanoi for further discussion.
Deputy Managing Director for Technical Affairs of IRNA, Mr. Vahid Rafeh, made the Power-Point Presentation entitled "New Methods for "More Impact"".
Bilateral agreements on cooperation were signed between IRNA and National News Agency (Lebanon), IRNA and Anadolu Agency, and Yonhap and Anadolu Agency.
The printouts of the Country Reports were distributed among the delegates.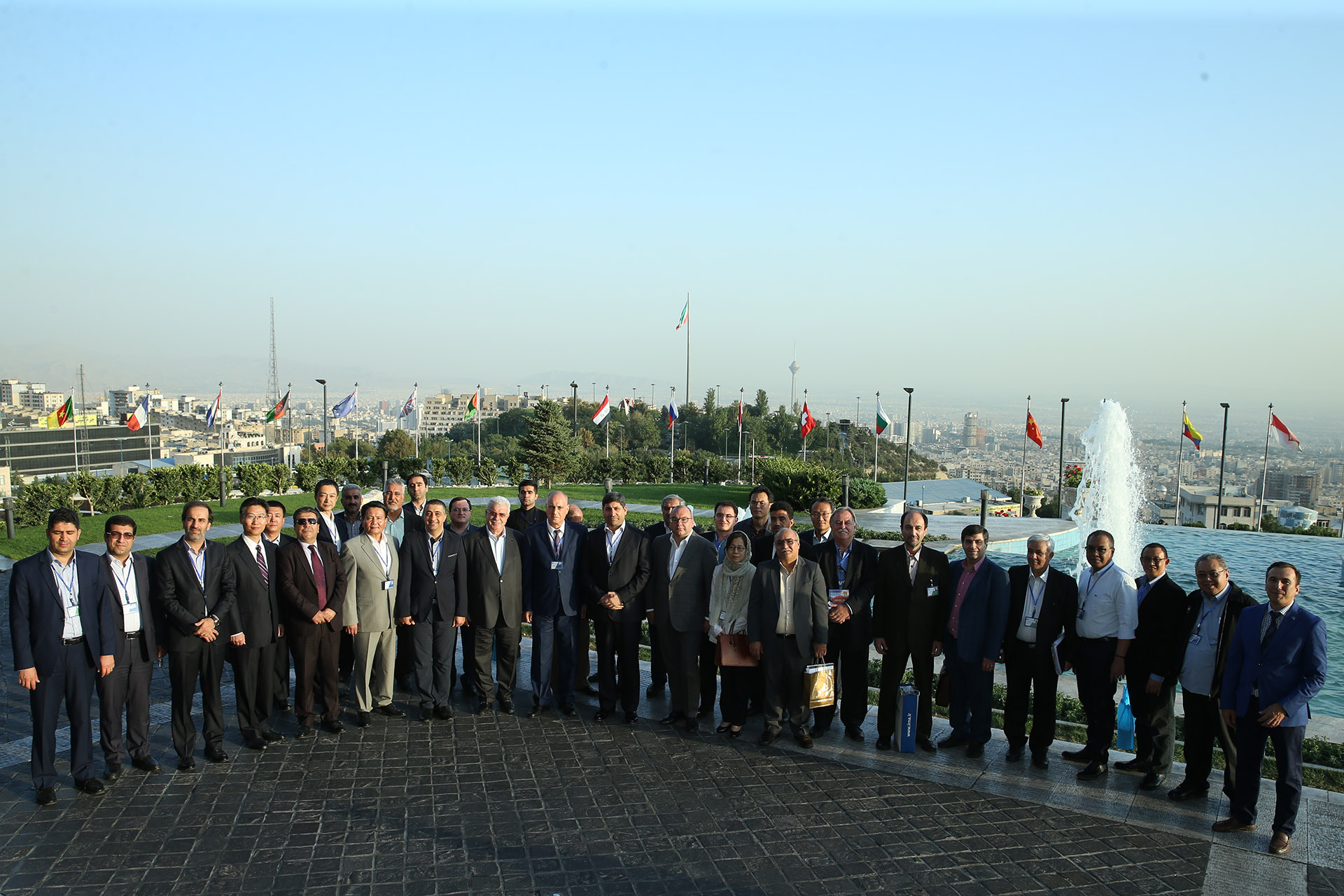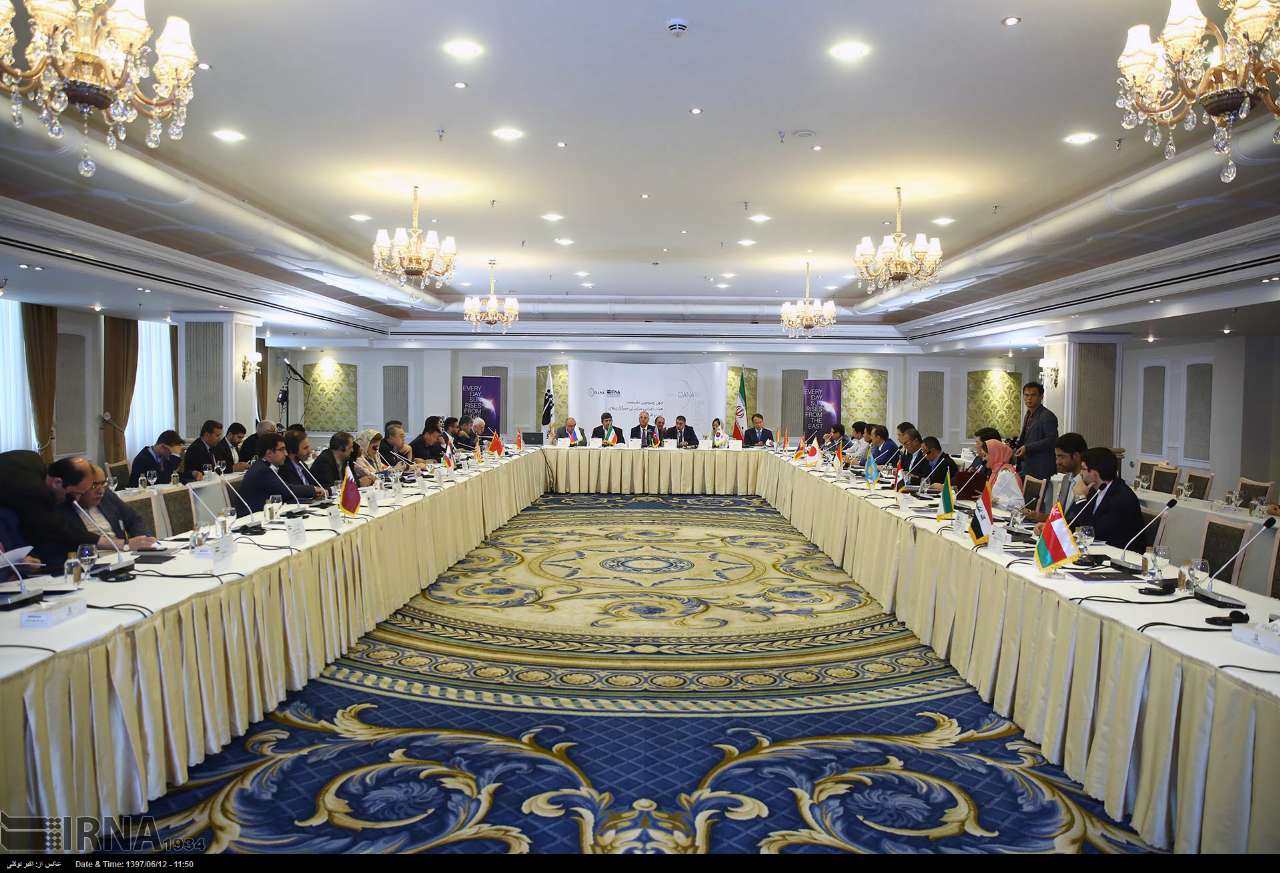 Welcome addresses made by Dr. Seyed Zia Hashemi, Managing Director of IRNA
In the Name Allah, the Beneficent, the Merciful
Honorable Minister of Culture and Islamic Guidance,
Respected OANA President and Secretary General
Excellencies,
Ladies and Gentlemen,
In my capacity of the Managing Director of the Islamic Republic News Agency (IRNA) and on behalf of my colleagues, I welcome you to Tehran and to the 43rd Executive Board Meeting (EBM) of the Organization of Asia-Pacific News Agencies (OANA), and the meetings of technical experts and ethical committees. I hope you will have a pleasant stay in the Islamic Republic of Iran. I also hope that we will be able to have effective professional discussions about editorial, technical and ethical issues of OANA in the short opportunity provided in Tehran.
As the host of the executive, technical and ethical committees, I consider it as my duty to thank AzerTAC Chairman of the Board Aslan Aslanov, as the president of OANA, and his colleagues, and also wish success for South Korean Yonhap News Agency which is supposed to shoulder the important responsibility next year.
Distinguished Colleagues,
It has been 180 years since the establishment of the first modern news agencies in the world; and IRNA, as one of the oldest news agencies in Asia, celebrated its 84th anniversary this year. For long years, news agencies were the pioneers in producing and publishing news at the national, regional and international levels and have experienced numerous transitions in their path. However, the news agencies of our region suffered from a lack of balance in information dissemination and were under the one-way flow of information from the North to the South.
One of the most important developments that occurred in the 20th century in order to counter the lack of information dissemination balance was the formation of news coalitions in different parts of the world including Asia and Oceania.
OANA was established 57 years ago by our predecessors; despite numerous ups and downs, it has survived with the presence of 44 news agencies from 35 countries. Today, we have gathered together as a part of continental coalition in Tehran to play our role in strengthening and enhancing OANA's effectiveness.
Having the majority of the population in the world, OANA members have more than half of the information dissemination and commerce in the world. But we have to admit that despite all the enormous capacities and six decades of history, OANA has not been able to have the expected effect on the international communication arena. The lack of success of OANA has its roots in all of us; considering technological developments in the recent years and the need felt by all the members for closer cooperation, I hope we can elevate OANA as a professional and efficient coalition.
There used to be a huge distance between our forefathers' financial and human capitals, as well as professional ability and expertise, and those of the big and regional news agencies; hence, they didn't have a hope to fill the gap. But today, due to the technological advances, expansion of professional training and enhancement of public awareness in the south countries, we have bright prospects. With brainstorming and full cooperation, and using the capacities of organizations such as OANA, we will undoubtedly be able to bridge the gulf between the North and South information dissemination faster and move toward fairer and more democratic and humane global community.
Mass media, as the fourth pillar of democracy, alongside the other pillars – the constitution, parliament, and free elections – has played an important role in expanding democracy, countering oppression and injustice, expression of the truths, and securing the citizens' rights at national and regional levels, examples of which are the recent developments in WestAsian and Northern Africa.
Respected Participants,
It has been for decade that dominance over media and news agencies has provided the big powers with a huge and extraordinary might so that they have been able to use the news and information leverage to take measures to change beliefs and attitudes and to engineer domestic and foreign public opinions. These powers' exploitation of media power has resulted in the emergence of a phenomenon which can be called "Information Despotism". It is in fact a new form of traditional despotism that were manifested in military and political frames. Therefore, it can be claimed that the measures taken by the freedom seekers, the anti-despotism, and anti-colonialism fighters have not stopped yet; there is a long way to go to eliminate information despotism.
Today the concept of news imperialism, information trusts, media cartels, and cultural colonialism, has expanded further, especially with the help of information revolution. Big Western news agencies, like other Western institutions and phenomena, were formed in the context of the colonial history; so their ideological foundations, approaches and functions are basically Western. Even their technical structures, economic interests, and dominant literature originated from the Western culture and civilization.
Developing counties and the countries with a long history and civilization are still receivng the main portion of their information and news through big Western media. In fact, the political and cultural dominance of the West over a large part of today's world has been materialized through controlling the sources of news collection, mass publishing of cultural productions all around the world, ownership of publications and news agencies, and enjoying advanced media tools. Majority of thinkers from politicians of developing countries to Western intellectuals unanimously agree that news agencies are still under the influence of certain western news agencies that are inherently West-oriented and move toward the imperialistic goals of the West.
However, recent years' developments in communication technologies have maximized the extent of concepts like Communication Age, Information Explosion, Communication Revolution, and Information Society and have introduced new interactive media to the society. Therefore, the one-way path of production and distribution of news and information is changing to a two-way one; i.e. the recipients of the news and information have changed into senders as well, and can, in return, influence their audience. The government's monopoly of news agencies and media has broken down and its ability of monitoring and controlling the information flow has considerably decreased. In fact, satellite stations, internet websites, and social media channels have travelled beyond national borders.
Honorable Minister,
Esteemed Colleagues,
OANA, as an independent organization enjoying lofty cultural and humane causes, must renew and reconstruct itself through utilizing all the member agencies' capacities to be more active in regional and international arenas by setting a new agenda and prioritizing training and using modern technology.
I hope that these developments will show their positive effects in international arenas in the near future and that coalitions, such as OANA, will be able to turn more effectively into the real voices of nations, especially the oppressed ones that are fighting for independence, freedom, progress and development, and put an end to the news injustice throughout the world.
Thank you for your attention.
Mr. Aslan Aslanov, President of OANA, Chairman of the Executive Board of the AZERTAC agency
Dear friends, distinguished colleagues,
First of all, on my own behalf and on behalf of each member of OANA's Executive Board, I would like to express my deepest gratitude to the Iranian government representative responsible for information-related issues for the assistance and excellent organization of this meeting here in Tehran.
At the same time, I would like to thank IRNA agency, which hosts our meeting, and in particular its Managing Director Sayyid Zia Hashemi for high hospitality.
Dear Executive Board members, I am truly happy to meet with you and thank you for finding time to attend this meeting.
As you know, this is our first gathering in 2018. The agenda of the meeting includes technical and financial reports, approval of the minutes as well as a number of issues relating to OANA's activities.
We will also try to set the date and venue of our next meeting. In addition, as you know, the 17th General Assembly of OANA will be hosted by Yonhap news agency in the Republic of Korea next year. We should discuss the date and venue of the General Assembly because Yonhap news agency needs to embark on preparations.
Dear colleagues, the topics on today`s agenda solely address OANA's activities. So I ask each of you to express your opinion on the proposed topics.
I wish you a productive and successful meeting.
Thank you.
Dr. Seyyed Abbas Salehi, Minister of Culture and Islamic Guidance
In the Name Allah, the Beneficent, the Merciful
Respected President of OANA,
Honorable Managing Director of IRNA,
Distinguished Guests,
I would like to welcome you to the Islamic Republic of Iran to attend the meeting of Executive Board of the Organization of Asia-Pacific News Agencies (OANA). I wish you a successful meeting.
Nowadays, media are no more separate islands and as a result synergic approaches and coalitions are quite common among them. In the past and when media had limited coverage, each of them tried to follow its own and specific methods. However, today, it is media coalitions and news mainstreaming that can withstand news colonialism.
The Organization of Asia-Pacific News Agencies (OANA) was set up in 1961 on UNESCO's initiative to make a balance against the one-way information flow in Asia and Oceania. It was an effort to create equilibrium and prevent unilateral approaches in media and news dissemination.
However, it appears that turning OANA into an efficient organization requires a new agenda based on the new media approaches. As a purposeful and independent organization, OANA not only as a coalition with specific agenda but as an organization seeking development, can be a deciding factor in the field of communication and in the age of information.
Esteemed Delegates,
We live in an era when the media need to re-define and re-evaluate themselves in order not to lag behind science and technology. Therefore, re-organizing the mechanisms based on the new atmosphere of the communication world and social networks is an inevitable necessity.
Public diplomacy and cultural diplomacy as part of it have a special position in modern world. With cultural diplomacy, the capacities and successes of countries are used as an advantage in the political and international scenes. Cultural diplomacy is an influential process in which cultures of nations are presented to other countries and the different cultural features of nations are promoted in different levels.
Undoubtedly, culture, as an influential and powerful instrument, itself, has turned into an effective diplomacy and has gained political and social functions and effectiveness in addition to its cultural effects. In fact, cultural potentials and successes of countries are employed in the political and international scenes as an advantage and media diplomacy has an outstanding effect in this regard. OANA, as a major organization, covering a great number of population, can become an effective tool for cultural and media diplomacy.
OANA, as an organization with lofty and independent goals, can significantly enhance synergy and solidarity among peoples and governments. With this approach, OANA can increase regional and international convergence and cooperation in a bigger scope and challenge one-way and biased media mainstreaming or at least decrease its effects.
The Islamic Republic of Iran as the host of OANA Executive Board Meeting (EBM) is determined to use its experience and potentials to strengthen this organization so that proper news dissemination can replace one-way and biased news mainstreaming.
Drafting and adopting updated and effective programs by OANA member countries is an inevitable and serious task as well as short-, medium- and long-term plans which are feasible enough to be implemented can speed up the process of strengthening OANA and make it more harmonious.
Excellencies,
Distinguished Participants,
I would like to seize the opportunity to inform you about part of the activities carried out and the progress achieved in my country since the 1979 Islamic Revolution.
Currently, in the Islamic republic of Iran, 3,800 print media including dailies, weeklies, monthlies, and periodicals are published. Some 31 news agencies and 1,300 news websites are also active in Iran in the field of press and information.
It is my honor to inform you that out of the 3,800 print media, 75 are working in the field of children and young adults, 10 are for the handicapped, 100 news websites are about cinema and literature, 90 are for families, 350 for sports, and 12 special publications for religious minorities.
I should add that out of 3,800 active printed media in Iran, 1,400 are run by female managing editors and president-publishers which is an indication of strong presence of women in the field of media in Iran.
In the end, I wish you a lively meeting and constructive discussions, as well as a memorable stay for every guest in the Islamic Republic of Iran.
Thank you for your attention.
Speech by Aslan Aslanov, President of OANA at the 1st session
Dear friends, distinguished colleagues.
Each member agency is making its own contribution to OANA's activities. During these meetings we regularly discuss current issues, try to address the challenges that we face and share best experiences. Each of us boasts certain development and years of experience.
I have already highlighted my proposals on how to improve the organization's activities. Now I would like to once again draw your attention to some issues regarding these proposals.
Actually, these proposals stem from long-term experience of all of us.Our goal is to expand OANA's activities and transform it into an organization that meets modern requirements.The country reports at today's meeting also address OANA's activities. I believe that our speakers will come up with interesting ideas on the proposed topics.
The first point is that in addition to the Executive Board meetings, we can also hold conferences or workshops with the participation of the agencies which are not members of the Executive Board in order to exchange experience and discuss the latest innovations. Of course, this requires certain funding. As you know, under OANA's Statutes, all member agencies shall pay annual membership fees. There are 44 member agencies in the organization, but unfortunately not all of them regularly pay membership fees for some reasons. But we can use the funds accumulated through the payment of membership fees to organize such conferences with the participation of the member agencies that pay membership fees. To be held once a year, such conferences could help us address new challenges facing the Asian and world media community.
The organization of trainings might be another effective factor in broadening experience. We can transform this initiative into OANA Training Academy in the future. As I have mentioned, modern challenges require us to be well prepared for innovations and technological know-how. Through this Academy, we can hold trainings for employees of OANA member agencies conducted by specialists. We can also engage professionals from both outside OANA and the world's leading agencies such as Xinhua, TASS, Yonhap, Kyodo and other member agencies. We believe that this can help all of our members benefit from the Organization's activities. We can allocate funds from OANA's budget for this purpose, and together we can consider in which format and how we can do it. In my opinion, we can set up a working group or a commission consisting of members of the Executive Board in order to consider the allocation and use of funding for such important measures.
One of our proposals is to set up the permanent office of OANA's Secretary General. Under the current Statutes, OANA's Secretary General shall necessarily be elected from the chair agency and change every three years. We propose that Secretary General would not necessarily represent the chair agency and can be any other person who would be able to be re-elected as Secretary General after completion of his three-year term. We believe that the establishment of the permanent General Secretariat might give the Organization the advantages of having centralized document management, organizing events and carrying out organizational works in a more efficient and effective manner, circulating newsletters on the changes happening in member agencies, etc. There is such experience in other organizations, so we could benefit from their experience.
We also propose to organize photo and other contests and revitalize OANA's website. As you know, we have made every effort and encouraged all member agencies to post their news on OANA's website since AZERTAC assumed presidency of the organization. So even those member agencies that had not been posting their news for years, are now sharing their stories on OANA`s website. But this figure is very small given the number of our member agencies. We want more news, photos and videos to be posted on the website so that it transforms into one of the biggest news sources providing readers with knowledge about what is happening in every country in Asia.
As you know, people are now increasingly using mobile devices. For instance, more than 65 percent of visits to AZERTAC's websites come from mobile devices. This encouraged us to launch a mobile version of OANA`s website, which gives mobile device users easy access to news stories posted by member agencies. Twenty-four agencies posted their news on the website in the six months of 2018. But many of the member agencies upload news stories without photos. Only three member agencies upload videos. I would like all the member agencies to upload their news content accompanied by photos. This will make their news stories available on the mobile version of the website. We plan to incorporate other sections of OANA's website and information about the organization into the mobile version. You can read more about what has been done over the past two years in the technical report presented to you.
We strive to make OANA meet the most up-to-date requirements. OANA Statutes were adopted in 1981. We all know that much has changed since then, so there is a need to improve the Statutes. For example, the Statutes do not feature separate articles relating to the website and Secretary General.
In conclusion, I would like to declare that we are launching a contest for the "OANA Excellence Award", which was initiated by Russia's TASS agency. You can send your projects to the General Secretariat. A statement on the contest will be made in the near future.
Dear colleagues, I hope that this meeting will be productive and contribute to building up OANA`s work at a much higher level.
Thank you for your attention.