Al-Karim Affirms Iraq's Keenness To Consolidate Peace, Coexistence And Tolerance, And To Promote The Values Of Dialogue And Tolerance
Printer-friendly version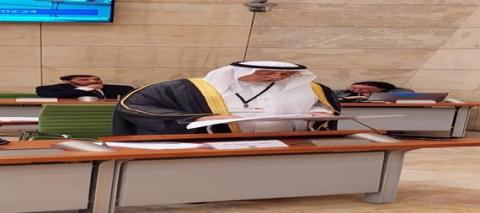 Baghdad / NINA /- The deputy of the Arab Parliament, member of the Parliamentary Relations Committee, Shaalan Al-Karim, affirmed Iraq's keenness to consolidate peace, coexistence and tolerance, and to promote the values of dialogue and tolerance.
Al-Karim said during the conference on "Building Tolerance and Peace Despite Current Challenges: The Middle East, North Africa and Europe," which was held under the auspices of the Global Council for Tolerance and Peace and the Parliament of Malta, that the convening of the conference of the Global Council for Tolerance and Peace in cooperation with the Parliament of Malta came in exceptional and complex circumstances, especially in the Middle East, North Africa and Europe, which carries serious risks that will affect the lives of our societies, expressing the solidarity of the House of Representatives and the Arab Parliament with the positions adopted by the Global Council for Tolerance and Peace as long as they are in line with the goals, foundations and charters that support peaceful coexistence and peace and tolerance among the peoples of the world.
He added that Iraq, within its national approach and humanitarian principles, will remain a true supporter of all efforts aimed at consolidating international peace and security. As a result of its balanced positions with its Arab and regional environment and its international standing, it took bold steps by playing the role of mediator between Saudi Arabia and Iran, as the Speaker of the House of Representatives, Muhammad al-Halbousi, Chairman of the Fourth Conference, the thirtieth of the Arab Parliamentary Union, which was held recently in Baghdad, to form a delegation headed by him to visit Syria in preparation for the restoration of its Arab, regional and international role, which was crowned with success by the presence of the Syrian delegation to the Arab summit conference in Jeddah.
Al-Karim called on the Global Council for Tolerance and Peace to launch a new initiative that includes an urgent road map based on tools that are compatible with the nature of the changes taking place to contribute to resolving disputes and conflicts and bringing the views of the parties closer together to restore stability in the region on one hand and relief for some peoples of the world on the other hand.
He also called on international organizations to work to settle sensitive files, especially the Palestinian, Sudanese, Libyan, Somali and Djibouti issues, and to find mechanisms to end the tension between Ethiopia, Egypt and Sudan on one hand, and between Iraq, Turkey and Iran, regarding the fair distribution of water.
Al-Karim explained that "our societies need to consolidate the values of tolerance, peace and coexistence, reject all forms of extremism, enhance joint cooperation and inspire regional and international efforts to stand up to the dangers facing the world./ End