Shortlink :
https://www.oananews.org//node/502920
The shortlink copeid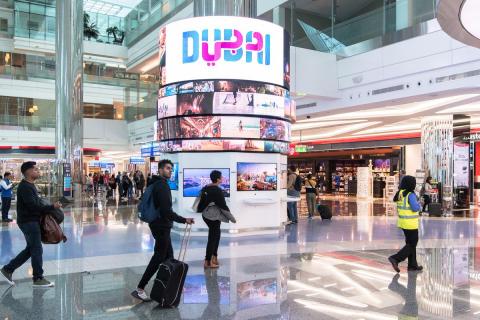 DXB passenger traffic hits 8.2 million in July
DUBAI, 29th August, 2018 (WAM) -- Dubai International, DXB, has recorded its second busiest month ever surpassing the eight million passenger mark in July, according to the monthly traffic report issued by operator Dubai Airports today. The airport clocked monthly traffic exceeding eight million passengers on three other occasions last year – in January 8.03 m, July 8.06 m, and August 8.23 m. Passenger numbers in July totalled 8,207,987, up 1.8 percent, compared to 8,065,789 recoded in July 2017. Year to date passenger traffic reached 51,947,092 up 1.6 percent compared to 51,120,057 recorded during the first seven months in 2017. In terms of growth rate, Eastern Europe was the fastest growing region in July with traffic surging 24.4 percent - mainly fueled by flydubai's route development plan, followed by CIS with +18.34 percent and major contributions from the Russian market and destinations such as Bishkek, Baku and Almaty among others, and Africa with +9.7 percent. India retained its position as the top destination country with 1,032,302 passengers, followed by Saudi Arabia 583,975 passengers, and the UK 581,557 passengers. London, with 358,201 passengers, topped the list of the most popular destinations served from DXB by traffic volume in July, followed by Kuwait 221,696, Mumbai 209,205, and Riyadh 200,411. Flight movements during July reached 35,393, up 3.5 percent compared to 34,181 movements recorded during July 2017. Year to date flight movements totalled 237,177 compared to 240,179 recorded during the first seven months of 2017, a contraction of 1.2 percent. Passengers per movement remained high at 238, but registered a contraction of 2.1 percent compared to the record high of 243 recorded in July 2017. DXB recorded robust growth in cargo in July with volumes totaling 223,488 tonnes compared to 213,258 tonnes in July 2017, up 4.8 percent. Year to date cargo volumes reached 1,491,649 compared to 1,516,169 tonnes of cargo recorded during the same period in 2017, a contraction of 1.6 percent.