Indonesia to encourage MSMEs' strategic role during G20 Presidency
Printer-friendly version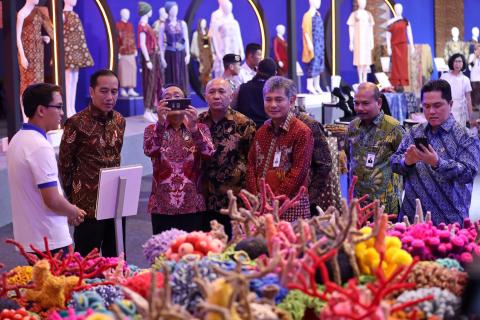 Jakarta, January 10 (ANTARA) - Deputy Minister of Trade Jerry Sambuaga highlighted the government's target to enhance the digital economy infrastructure to boost the strategic role of small and medium enterprises (SMEs) during Indonesia's G20 Presidency in 2022.
"The government is enhancing digital economic infrastructure, increasing the use of digitalization, and strengthening enablers, such as cross-border payment standards (customs and border protection), as well as development principles (central bank digital currency) to optimize SME exports," he stated here while speaking in a webinar on Monday.
Other attendees were Secretariat of the Indonesian G20 Sherpa, M. Hadianto; General Chairman of Micro, Small, and Medium Business Entrepreneurs Committee (Kopitu), Yoyok Pitoyo; Ad Interim Charge d'Affaires of the Indonesian Embassy in Tokyo, Tri Purnajaya; and the Tokyo Trade Attache, Arif Wibisono.
Sambuaga deemed the G20 as an opportunity for Indonesia to oversee the priority agenda list and ensure that the priority agenda delivers messages that represent developing nations.
The government should also continue to prioritize cooperation in accordance with the G20 theme of "Recover Together, Recover Stronger."
"As part of one of the opening agendas of the G20, that is the Indonesian Presidency Sherpa Track, hosted in December 2021, the government also focused on including activities aimed at empowering SMEs, including encouraging the digitization of SMEs, training in order to improve the skills of SMEs, and encouraging various pro-SME policies, such as ultra-micro financing," he stated.
Chairman of Kopitu Yoyok Pitoyo expects the market workshop at the G20 to offer tangible benefits, especially for the committee's members.
Secretariat of the Sherpa G20 Indonesia, M. Hadianto, listed the challenges that SMEs face to expand their reach globally, specifically in the form of regulation, financing, technology, and marketing. To this end, he opined that SMEs had become a priority discussion at the G20.
The Ad Interim Charge d'Affaires of the Indonesian Embassy in Tokyo, Tri Purnajaya, emphasized that SMEs were the backbone of Indonesia's economy quite akin to that in Japan.
The Indonesian Embassy continues to encourage SMEs to penetrate the Japanese market.
"Although Japan has a fairly high quality standard, I believe the opportunity for our SMEs to access the Japanese market is still very open," Purnajaya added.