Shortlink :
https://www.oananews.org//node/517622
The shortlink copeid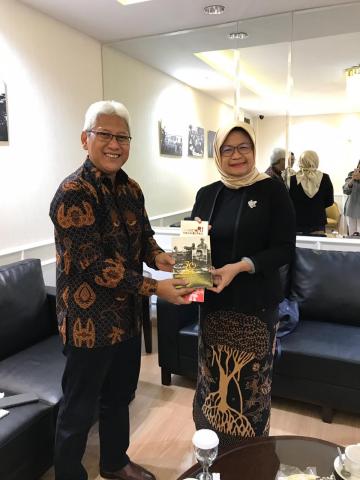 Indonesian Pharmaceutical Company Enters Stock Exchange
Jakarta, December 29 (ANTARA) - The Indonesian national company producing pharmaceutical products, PT Phapros, was officially listed on the stock exchange since December 26, 2018. Phapros is the 57th company listed on the stock exchange in 2018, the President Director of PT Phapros Tbk., Barokah Sri Utami said. "The company, which was founded in 1954, began production in 1957, including an anti-drunk medicine which has been well-known since the 1970s," Sri Utami said told ANTARA during a visit to the Indonesian national news agency, ANTARA, here Friday. According to Sri Utami, by being listed on the stock exchange, the company will continue to expand its business, including producing herbal products that have many advantages. The new products will be better than that the previous ones under a new brand name. One of the products is for consumers going away on long trips, such as an anti-cold herbal, which will not make one feel sleepy, Sri Utami said at the meeting with ANTARA`s Commercial and Business Director Hempi N Prajudi. "Building a new brand is our new task that we will work on in collaboration with ANTARA. The naming of the brand is still in progress," Sri Utami said. At the meeting, she was accompanied by several staff members, including Finance Director of PT Phapros Heru Marsono and Independent Director Frans Hutabarat. Sri Utami explained that PT Phapros and ANTARA had collaborated since January 2018 and wanted to enhance cooperation, especially in an effort to introduce its position on the stock exchange to the public. The drug manufacturer also wants to monitor market demands in order to become a highly competitive company. "We also want this cooperation to increase the company`s share price, among others, by making an in-depth analysis, maintaining the company`s position on the stock exchange and making news that has a positive impact on the company," Sri Utami said. Meanwhile, Prajudi welcomed PT Phapros`s desire to continue to enhance cooperation, especially in the field of media monitoring which has been ongoing for one year. On this occasion, Hempi also introduced ANTARA`s new business model, which is known as an Integrated Media and Communication Service, consisting of journalistic education, news distribution services, communication services, auditorium rental services, as well as data providing and sales services.