Shortlink :
https://www.oananews.org//node/624028
The shortlink copeid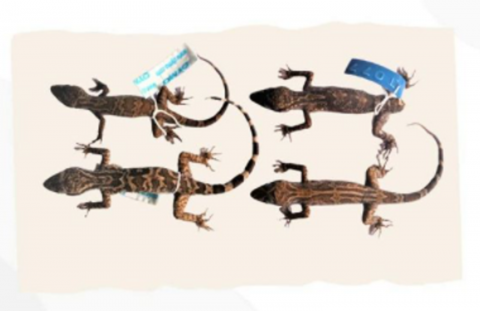 Indonesia identifies new species of bent-toed gecko from Obi Island
Jakarta, March 7 (ANTARA) - A zoology researcher from the National Research and Innovation Agency's (BRIN's) Biological Research Center, Awal Riyanto, and his team identified a new species of bent-toed gecko from Kawasi, Obi Island, South Halmahera, North Maluku. The bent-toed gecko, named Cyrtodactylus papeda, was identified from a specimen found in 2016 and 2018 by Fata H. Faz from IPB University, West Java. "Genetically and morphologically, this gecko is similar to a Melanesian species, called the Cyrtodactylus papuensis," Riyanto noted through a written statement here on Monday. "The differences lie in how it has a bigger body, rows of large thigh scales, and precloacal glands that exist on the male," he remarked. The papeda gecko can be found in the mangrove swamp vegetation, pine, and secondary forest associated with bushes. The bent-toed gecko is usually active and can be found at night between 30 cm to 3 m above the ground, with most of them residing on tree trunks. The average length of the bent-toed gecko reaches 60.7 mm. The color of its dorsum is brown. It also has a pattern of seven or eight narrow and random dark brown spots between the armpits and groin. A dark brown line extends from its postnasal area, passing the eye, and into the upper part of its ear hole. The back of the bent-toed gecko's tail is crooked, while its base part has a narrowed dark ribbon that expands when the tail shrunk. "Whether alive or preserved, this gecko has the same color," Riyanto pointed out. "Every area is light brown, while the dorsum is grey, beige, or brown yellow in color. Moreover, its supercilium and canthus are gold yellow," he explained. Molecular analysis indicates that the Cyrtodactylus specimen from Obi Island belongs to the Cyrtodactylus marmoratus group. Cyrtodactylus population from Obi Island is closely linked to the Cyrtodactylus papuensis sample from Buru Island, Raja Ampat, West Papua, and the southern part of Papua New Guinea.