Shortlink :
https://www.oananews.org//node/619796
The shortlink copeid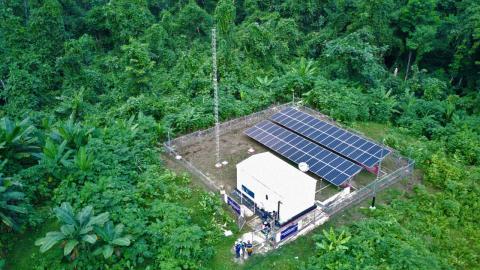 Indonesia slashes 10.37 million tons of carbon emissions from power plants
Jakarta, January 18 (ANTARA) - Indonesia reduced carbon emissions from its power plants by 10.37 million tons in 2021, according to the Energy and Mineral Resource Ministry. The reduction has reached 210.37 percent of its target set at 4.92 million tons, the ministry's Director General of Electricity, Rida Mulyana, told the press here on Tuesday. "We are consistently reducing carbon emissions. For the target in 2021, the achievement is more than 200 percent," Mulyana emphasized. In 2020, the ministry reduced carbon emissions from power plants by 8.78 million tons, or some 186 percent of the target at 4.71 million tons. The carbon emission reduction target from the sector was set at 5.36 million tons in 2022, he remarked. In its efforts to cut carbon emissions, the government has encouraged energy transition to net-zero emissions by 2060 or sooner. The ministry has formulated a road map of energy transition toward net-zero emissions, among others, through the imposition of carbon tax and carbon trade. To prepare a compulsory carbon emission trading system scheduled for 2025, the ministry has conducted trial runs for coal-fired power plant under a voluntary scheme since early 2021. The government has also issued a law on harmonization of taxation regulation that also covers regulation on carbon tax. The government will impose carbon tax in stages during the period from 2021 to 2025 by taking into account developments in the carbon market, achievement of the nationally determined contribution (NDC) target, sectors' preparedness, and economic conditions. Coal-fired power plants are the first sector to be subject to a carbon tax, starting from April 1, 2022, based on the law. The government has managed to make carbon transfer transactions through a carbon trading system at a price of Rp30 thousand per ton of carbon dioxide equivalent. Carbon trade is the practice of buying and selling credits that permit a company or other entity to emit a certain amount of carbon dioxide. Carbon trade agreements allow for the sale of credits to emit carbon dioxide between nations as part of an international agreement aimed at gradually reducing total emissions.