Abu Dhabi's Department of Culture set for strong presence at ITB Asia 2018
Printer-friendly version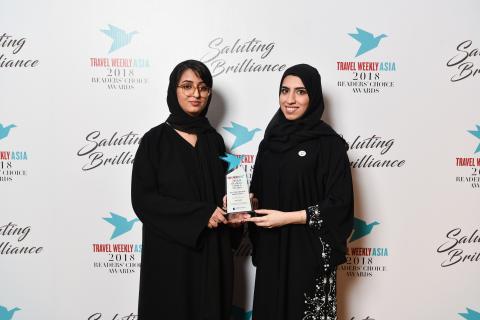 ABU DHABI, 16th October, 2018 (WAM) -- The Department of Culture and Tourism - Abu Dhabi (DCT Abu Dhabi) is set to lead a delegation of some of the emirate's top tourism stakeholders, including tour operators, heritage and cultural attractions, destination management companies and the UAE's national carrier, to ITB Asia, one of the world's largest trade shows to highlight the best of what the emirate has to offer.
Boosting the emirate's global profile further ahead of ITB Asia, which takes place in Singapore from the 17th to the 19th October, was the news that Abu Dhabi has just won the top accolade at this year's Travel Weekly Asia Readers' Choice Awards, scooping first place in the Best Destination - Middle East category.
The 2018 Readers' Choice award winners were presented with their trophies at a special ceremony on 15th October at the Mandarin Orchard Hotel in Singapore, with a representative from DCT Abu Dhabi in attendance to receive the award.
Following the Travel Weekly Asia awards evening, the DCT Abu Dhabi delegation will be joined in Singapore by representatives of Sheikh Zayed Grand Mosque, the emirate's most popular tourist attraction, which has been voted the world's second popular attraction by TripAdvisor. Other stakeholders who will be present include representatives from Louvre Abu Dhabi, as well as Etihad Airways, Yas experiences, Hala Abu Dhabi and Nirvana Travel & Tourism L.L.C.
ITB Asia, now in its eleventh edition, is organised by Messe Berlin (Singapore) Pte Ltd and supported by the Singapore Exhibition & Convention Bureau. Held annually at Marina Bay Sands, the business-to-business trade show and convention takes place over three days and is widely considered to be the primary event for the Asia Pacific travel industry. This comes in parallel to the vast growth the travel industry in Southeast Asia is witnessing, and the UAE is primed to take advantage of this with gross bookings expected to reach $53.7 billion by 2020, a 22% increase from 2016.
Through the event, DCT - Abu Dhabi aims primarily to develop strong partnerships and marketing initiatives, which will act to reinforce Abu Dhabi's reputation as a destination of distinction internationally and leverage its appeal, while building awareness around the emirate's destination campaign.
The event will see international exhibitors of all sectors from the travel-value chain showcase their products, from Asia Pacific's leading travel companies and emerging small and medium-sized enterprises to top international buyers from the MICE, Leisure and Corporate Travel markets.
This year, a total of 56 awards were handed out by Travel Weekly Asia across 10 different categories with all nominations and winners voted for by readers of the publication, which consist of professionals within the travel industry.
The Travel Weekly Asia accolade follows similar success for the emirate earlier this year, when DCT Abu Dhabi won three accolades for its destination promotional campaign, triumphing in the gold category at the Pacific Asia Travel Association (PATA) awards in July, and also winning the Best Tourism Destination (Cities) film award, as well as picking up the Grand Prix prize at the International Tourism Film Festival Maldives (ITFFM) in September.
Since the PATA award was announced, DCT Abu Dhabi has further strengthened its campaign, building on a destination identity that has already attracted record numbers of guests to the emirate for two successive years.
The new additions to the 'Your Extraordinary Story' narrative aim to continue raising awareness and interest in Abu Dhabi, and to grow its reputation as a unique leisure, business, and cultural destination by reinforcing the message of inspiring personal experiences.
"We are delighted for Abu Dhabi to have been named as the 'Best Destination in the Middle East' at the Travel Weekly Asia Readers' Choice Awards, especially as these awards were voted for by experts within the industry," said Saif Saeed Ghobash, Undersecretary of DCT Abi Dhabi.
"Recognition such as this reflects perfectly on our constant attention to positioning Abu Dhabi at the very forefront of people's minds when they consider their next great overseas adventure, and also reinforces our resolve to continue to strive for excellence in our efforts to promote our emirate as a destination like no other, with our strong presence at this year's ITB Asia testament to that ambition. Year-on-year we are seeing record numbers come to visit our emirate, and this award shows that our unrelenting efforts are having the desired effect."