Shortlink :
https://www.oananews.org//node/623404
The shortlink copeid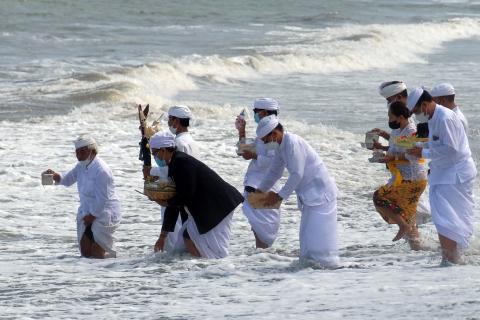 Denpasar, Bali, March 1 (ANTARA) - The Regional Police of Bali have prepared as many as 6,125 personnel across 9 regions in the province to secure the 2022 Hindu Day of Seclusion (Nyepi) celebrations. "The total number of personnel that will secure a series of Nyepi Day celebrations is 6,125, and the highest number will be deployed in Denpasar Police area, which is 1,288 personnel," head of the public relations division of Bali Regional Police, Senior Commissioner Syamsi, said here on Monday. Of the total 6,125 personnel, 1,288 personnel have been drawn from Denpasar City Police, 682 from Tabanan District Police, 517 from Gianyar District Police, 415 from Klungkung District Police, 411 from Bangli District Police, 761 from Karangasem District Police, 819 from Jembrana District Police, and 712 from Badung District Police, he informed. Ahead of the Nyepi celebration, the Klungkung District Police will prioritize traditional village-based security by collaborating with local traditional village security officers or "pecalang." "Of course, we will invite traditional villages to jointly secure and supervise the activities ahead of Nyepi to prevent a spike in (COVID-19) cases. Considering the risk of COVID-19 cases spike in Klungkung, people are appealed to strictly implement the health protocols," he said. Syamsi said that during the series of Nyepi celebrations starting February 28, 2022, a "melasti" ritual will be carried out. However, their implementation will be adjusted and limited to prevent crowding by imposing strict procedures, he added. Leaders of traditional villages, pecalang, the Indonesian Defence Forces' (TNI) village supervisory non-commissioned officers (Babinsa), and National Police's security and public order officers (Bhabinkamtibmas) will directly supervise the celebration, he informed. "Of course, we have to anticipate together," he remarked.