Business forum "Kyrgyzstan - Uzbekistan" kicks off in Bishkek
Printer-friendly version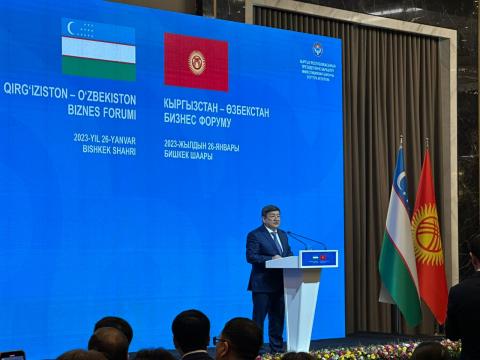 Bishkek, Jan. 26, 2023. / Kabar/. A business forum "Kyrgyzstan - Uzbekistan" has started in Bishkek with the participation of delegations from the two countries.
The event was opened by Chairman of the Cabinet of Ministers of the Kyrgyz Republic Akylbek Zhaparov.
In his welcoming speech, the head of the Cabinet of Ministers of the Kyrgyz Republic noted that the highest level of strategic partnership has been established between Kyrgyzstan and Uzbekistan, a constructive and trusting dialogue has been established.
"I want to note that our countries have a rich potential for achieving comprehensive trade and economic cooperation. I expect that the results of the forum will be fruitful and productive, which serves to further strengthen the full-fledged, creative partnership between our countries.
I am sure that the implementation of the reached agreements will have an impact on the trade and economic indicators of the two countries in the near future.
I wish all participants of the Forum productive work and achievement of breakthrough agreements," he said.
The forum is held as part of the program of the state visit of President of the Republic of Uzbekistan Shavkat Mirziyoyev. As a result, 10 documents are expected to be signed for approximately USD 100 million. After the official part, the entrepreneurs of the two countries will hold B2B meetings to establish and expand business partnerships.
The business forum is an important event for the development of bilateral cooperation and the establishment of business relations between business representatives of Kyrgyzstan and Uzbekistan.
The event will serve as a platform for establishing new business contacts and opportunities for building a constructive dialogue between representatives of business communities in the field of agriculture, tourism and light industry. Given the wide composition of the delegation, a unique opportunity is provided for domestic entrepreneurs to establish partnerships and expand the circle among representatives of the business sector of Uzbekistan.