Shortlink :
https://www.oananews.org//node/624174
The shortlink copeid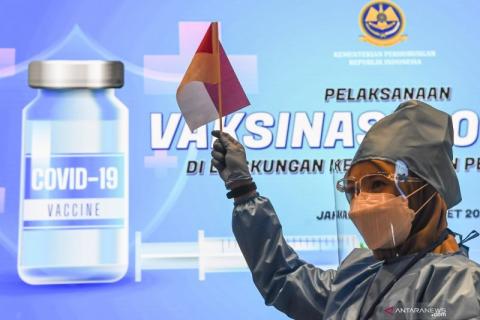 C20 urges G20 leaders to ensure equal distribution of vaccines
Bali, March 9 (ANTARA) - The Civil 20 (C20), under the G20 Presidency of Indonesia, has asked the members of the grouping to ensure equal distribution of vaccinations throughout the world. "The C20 calls on G20 countries to distribute vaccines to developing and poor countries and encourage vaccine production in developing and poor countries," Chair of C20 Sugeng Bahagijo said during the C20 kick-off meeting and ceremony in Bali, on Tuesday. C20 has also urged G20 countries to commit to vaccinating at least 90 percent of the world's citizens by the end of 2022, he said. He said that the pandemic has disrupted global development and affected millions of people, especially those in developing countries. While variants of the virus are continuing to mutate, as of February 3, 2022, only 11 percent of the population in the African continent has been fully vaccinated, while half of the countries in Europe have reached more than 85 percent vaccination rate and have already initiated booster shots, he noted. The C20 represents not only the voices of civil societies in G20 countries, but also globally, including those in the global south, he added. "Recalling Indonesia's commitment for this year's G20 on collaboration and cooperation as the key to producing solutions to combat many world issues, the C20 believes that the goal of 'Recover Stronger, Recover Together' can only be achieved if this collaboration involves the participation of countries who have the same vision of bouncing back from the pandemic era equitably together, and jointly with the inputs and collaboration of civil society," Bahagijo said. The event brought together more than 100 civil society organizations (CSOs) across the globe divided into seven thematic groups: (i) Vaccine Access and Global Health, (ii) Gender Equality, (iii) Taxation and Sustainable Finance, (iv) Environment, Climate Justice, and Energy Transition, (v) SDGs and Humanitarian, (vi) Education, Digitalization, and Civic Space, and (vii) Anti-Corruption, he added. In addition, Sherpa of C20, Ah Maftuchan, said that the C20 had its official kick-off on March 7–8, 2022, with a public event hosted in a hybrid format from Nusa Dua Bali, Indonesia. "The theme of the kick-off meeting is 'C20 Indonesia: Listening to the World,' which aims to emphasize the C20 demands to the G20 leaders in listening to the needs of civil society across the world and developing more inclusive and adaptive policies post the COVID-19 pandemic," Maftuchan added.