Shortlink :
https://www.oananews.org//node/623816
The shortlink copeid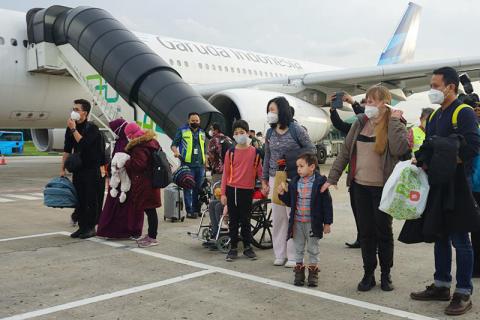 Eighty Indonesian citizens evacuated from Ukraine reach Jakarta
Jakarta, March 4 (ANTARA) - Eighty Indonesian citizens (WNI) who were evacuated from Ukraine arrived at Soekarno-Hatta Airport, Tangerang City, Banten Province, on Thursday and were received by Foreign Affairs Minister Retno Marsudi. At a virtual press conference on Thursday, she informed that the evacuees arrived at 5:10 p.m. Western Indonesian Standard Time (WIB) on an aircraft belonging to Indonesian flag carrier Garuda Indonesia. In addition to the 80 WNIs, there were three foreigners (WNAs) who were related to them, she noted. They were picked up from Bucharest, Romania, after leaving Ukraine following Russia's military attack on the country, she said. "The pick-up team left from Jakarta for Bucharest on March 1, 2022 at 6:40 p.m. WIB, and arrived at Henri Coanda Airport, Bucharest, Romania, on March 2, 2022 at 3:10 p.m. local time," the minister added. The evacuees departed from Bucharest to Tangerang City on March 2, 2022 at 8:23 p.m. local time, Marsudi said. The journey home took approximately 17 hours, she added. Fourteen Indonesian nationals, who are staying in Bucharest since 12 of them tested positive for COVID-19, remain to be flown back to Indonesia, she informed. Meanwhile, two others have chosen to stay to accompany their family members who have been exposed to the virus, she said. "The 14 people will continue to be monitored and accommodated by the Indonesian Embassy in Bucharest. Once they have recovered, they will be sent home by commercial aircraft," Marsudi informed. On the same occasion, she lauded the Indonesian embassies in Bucharest, Warsaw, Kiev, and Moscow, as well as all the parties involved in the evacuation process. In addition, she thanked the pick-up team, which consisted of military personnel, State Intelligence Agency (BIN) officers, Garuda Indonesia officials, and other stakeholders. "We also thank the Defense Ministry that has given a number of advices during the evacuation process," the minister added.