IRNA Sets Guidelines For Survival Of OANA In Tokyo
Printer-friendly version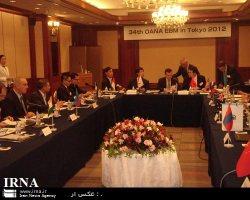 Tokyo, Dec. 1, IRNA – Deputy Managing Director of the Islamic Republic News Agency (IRNA), Gholam-Hossein Eslamifard, during his speech at the 34th executive board meeting of the Organization of Asia-Pacific News Agencies (OANA) in Tokyo gave several proposals for OANA survival.
Pointing to the fact that globalization of information and the developments in the field of digital news industry have created both challenges and opportunities for the news agencies across the world, Eslamifard said that if the news agencies provide timely and broad-based news coverage and report the hidden angles of the events, they can survive.
'Among the mechanisms for survival of OANA and its member-states is increasing cooperation among news agencies at the bilateral, regional and international levels,' he added.
The IRNA Deputy Chief enumerated constant training, paying importance to expertise, using the software and new information dissemination systems, broader mutual cooperation with other news agencies for exchange of experience and news knowledge, and finding a solution for the existing problems can be regarded as new strategies for survival in the business of news and information.
'The OANA member-states should get engaged in providing news services for their customers in order to help them survive on the market. These services such as audio-visual and multimedia services can help our audience and customers in the modern era,' Eslamifard said.
He said that IRNA is ready to take charge of OANA presidency after the tenure of Itar-Tass ends in 2016.
The OANA was established in 1961 with the aim of facilitating information dissemination among the Asia-Pacific region countries with the support of the UNESCO.
A total of 41 news agencies from 33 countries are members of the OANA. IRNA was president of OANA from 1997 to 2000./end