Mount Semeru emits hot clouds, triggers volcanic ash rain
Printer-friendly version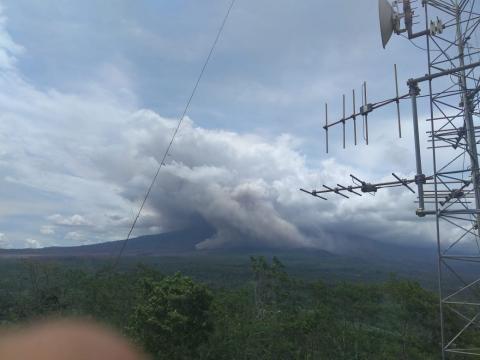 Jakarta, January 6 (ANTARA) - Mount Semeru spewed hot clouds again at 8:35 a.m. local time on Wednesday (Jan 5), triggering volcanic ash rain in some areas, according to observations from the Center for Volcanology and Geological Hazard Mitigation (PVMBG).
PVMBG observed an eruption of hot clouds spreading up to a distance of five thousand meters towards Besuk Kobokan and Besuk Lengkong, acting head of the Disaster Data, Information and Communication Center of the National Disaster Mitigation Agency (BNPB), Abdul Muhari, informed here on Wednesday.
The seismograph movement showed a maximum amplitude of 26 mm, with a duration of 969 seconds, he said.
The height of the thick brown ash column was approximately 1,500 m above the mountain's peak, and it moved to the southeast and south direction, he added.
"This resulted in thin volcanic ash rain in Kebonseket village of Candipuro subdistrict and Penanggal village of Pronojiwo subdistrict in Lumajang district, East Java," he said.
It has been reported that residents are safe, Muhari added.
Meanwhile, the activity status of Mount Semeru has been set at Level III (alert) since December 16, 2021. Residents have been advised against conducting activities in the southeast sector along Besuk Kobokan, which is 13 km from the mount summit.
Beyond that distance, people have been advised not to conduct activities within a 500-m distance from the riverbank along Besuk Kobokan because of the likelihood of hot clouds and lahar expansion that could flow to a distance of 17 km from the summit.
Officials have also advised people to remain alert for hot clouds, lava, and lahar flowing from the top of the Semeru volcano along the rivers and valleys, especially Besuk Kobokan, Besuk Bang, Besuk Kembar, and Besuk Sat.