Shabwa's dialysis centres receive ERC support
Printer-friendly version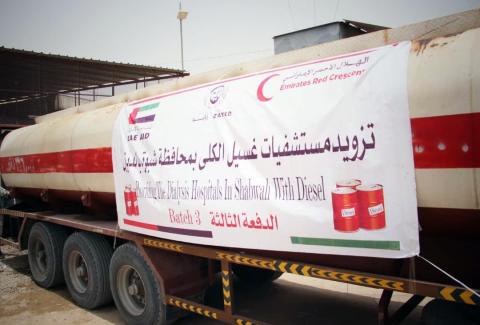 SHABWA, 26th July, 2018 (WAM) -- The Emirates Red Crescent has provided a urology hospital and dialysis centres in the Shabwa Governorate of Yemen with diesel fuel necessary to ensure the continued operations of the medical facilities for three months.
Sultan Al Nuaimi, an ERC representative in Shabwa, said that the latest delivery to the dialysis centres and hospital included a tanker carrying 36,000 litres of diesel to ensure continued operations to provide treatment of patients with renal failure.
Nasser Mussalam, Executive Director of the Kidney Centres in Shabwa, expressed his appreciation to the UAE and its humanitarian arm, the ERC, for their unlimited support for Yemen's citizens. The Urology Hospital in Azzan and dialysis centres in the cities of Ataq and Meifa'a in the Shabwa Governorate received the necessary fuel supplies, he explained.
The ERC has provided similar quantities of diesel fuel to the hospital and centres in February.