WHO Director-General praises Widodo over pandemic handling
Printer-friendly version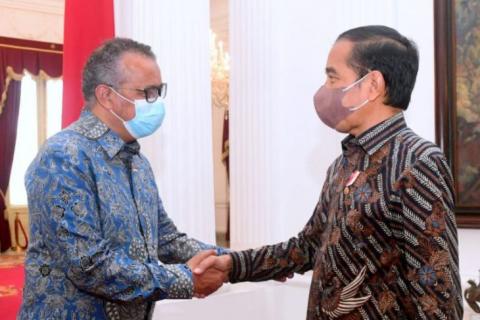 Jakarta (ANTARA) - Director-General of the World Health Organization (WHO) Tedros Adhanom Ghebreyesus has congratulated President Joko Widodo on Indonesia's achievement in handling the COVID-19 pandemic, Foreign Affairs Minister Retno Marsudi informed on Tuesday.
Marsudi, who accompanied Widodo when he received a courtesy call from Ghebreyesus at Istana Negara here on Tuesday, said that Indonesia's COVID-19 handling was one of the topics discussed during the visit.
Ghebreyesus also praised Indonesia's COVID-19 vaccination achievement compared to other countries, she informed in a press statement streamed on YouTube on Tuesday.
"He noted that Indonesia has one of the best achievements compared to the average (vaccination) achievement rate of countries across the world," she said.
Ghebreyesus also informed that the WHO is continuing to monitor the development of the COVID-19 situation though, in general, the number of cases globally has started to decline.
"However, he stated that the pandemic is not yet over. The WHO is continuing to monitor the emergence of new variants," the minister noted.
The WHO Director-General also lauded the implementation of the family health care system and mandatory health insurance in Indonesia during his meeting with Widodo.
He praised Indonesia's leadership of the G20, especially its focus on bolstering the global health architecture, too.
Before visiting Widodo, Ghebreyesus attended the first G20 Health Ministers Meeting (HMM) in Yogyakarta on Monday.
During the G20 meeting, he said that the perception that the COVID-19 pandemic is over is misguided.
In several countries, all restrictions have been revoked and life appears to have returned to the pre-pandemic state, he noted.
According to Ghebreyesus, this reflects progress, but the notion that the pandemic is over, while understandable, is still misguided.