Hammoudi To Pakistan's Foreign Minister: The Region Has Become More Stable
Printer-friendly version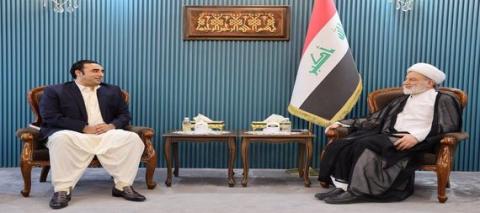 Baghdad / NINA /- The President of the Islamic Supreme Council of Iraq, Sheikh Hammam Hammoudi, received the Pakistani Foreign Minister, Bilawal Bhutto Zardari.
The two sides discussed, according to a statement by the Islamic Supreme Council, the relations of the two countries and their common stances towards crucial issues, and frameworks for enhancing cooperation in light of the Iraqi openness.
Sheikh Hammoudi called on Pakistan for joint action between the two countries to enhance the stability of the region and develop its economic interests, especially in light of the important roles played by Iraq among a number of neighboring countries, stressing that the region has become more stable and independent.
He stressed: the importance of continuous communication for these purposes, as well as benefiting from investment opportunities in the field of construction, the health sector and cultural exchange, and providing facilities for Pakistani visitors.
For his part, Zardari stressed the importance of what Iraq has achieved, expressing his gratitude for its roles in the region.
He pointed out: There are many attractive factors to strengthen Pakistan's relationship with Iraq, especially in the health and development sector, expressing his keenness to strengthen the partnership for the stability of the region. / End